PHOTO: Mug Shot Released Of Football Player Arrested For 'Illegal Viagra'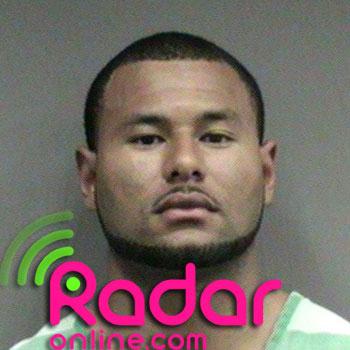 Two days after police in Gainesville, Florida, arrested Oakland Raiders WR Louis Murphy for a series of violations stemming from a traffic stop -- including for illegal possession of Viagra -- RadarOnline.com has obtained his just-released mug shot.
Authorities pulled over Murphy, 23, on Sunday after loud music was blaring from his SUV. Police said, at first, Murphy refused to stop when flagged by cops and that he resisted arrest when they tried to detain him. In all, it took three officers to take the 6-2, 200-pound Murphy into custody.
Article continues below advertisement
Gainesville police said that Murphy agreed to allow police to search his SUV, and when they found the bottle of Viagra -- with 11 pills inside-- Murphy claimed he had torn the label off the bottle "because he did not want his girlfriend to know he had a prescription for it."
Problem was -- Murphy did not have a prescription for the medication. Upon being taken into custody, he was charged with drug possession without a valid prescription, failure to obey a police officer and resisting arrest.
Murphy -- who played college football at the University of Florida in Gainesville prior to turning pro -- recorded 41 receptions and two touchdowns in 2010.
He is the third Raiders player arrested since the end of the 2010 season. RB Michael Bush was arrested for alleged drunken driving in Indiana on February 12 and OT Mario Henderson was arrested for allegedly carrying a concealed firearm in Florida on March 17.