'Madonna & Kabbalah Have Blood On Their Hands,' Sister Of Singer's Late Manager Claims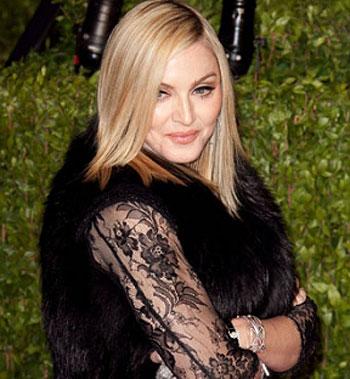 Yvette Dobbie, the sister of Madonna's late ex-manager who commit suicide just more than a year ago, told The Daily that "Madonna and Kabbalah have blood on their hands," as "they killed my sister as surely as if they would have pulled the trigger themselves."
Dobbie's sister Caresse Henry killed herself via gunshot in an Irvine, California apartment on March 31, 2010 at the age of 44.
According to Dobbie, in 2004, the Express Yourself singer's passion for Kabbalah, a form of Jewish mysticism, caused a rift between Madonna and her sister, after years of loyally serving the pop icon as a personal assistant and manager.
Article continues below advertisement
"They don't want to hear this, but I don't care: I'm not in the entertainment business, and I'm not intimidated by Madonna," Dobbie told the website.
"The cult aspect, the all-encompassing intrusion into her life, how you think, what you eat, how you meditate ... that really didn't sit well with my sister," Dobbie said of Henry's skepticism toward Kaballah. "She was Catholic and didn't think this was a good thing."
Dobbie told the website that after Henry rejected Madonna's Kabbalah-influenced commands to end a romance with one of her bodyguards, the Material Girl callously sent a fax to Henry in November of 2004, relieving her of her services.
The letter from Madonna read, "I am writing to advise you that the engagement of you and Puddy, Inc. as my personal manager has ended and that you and your company may no longer hold yourself out as my manager, or take any further action on my behalf.
Article continues below advertisement
"Liz Rosenberg will be exclusively handling all communications with the media and sending us a proposed press release for our review."
Said Dobbie of the termination: "Madonna was done with her, it was over, and it would be handled by lawyers ... when Madonna is done with you, she's done."
Dobbie told the website that the firing sent her sister in a tailspin of depression she'd never recover from.
"She was just crestfallen, devastated, heartbroken and felt very betrayed," Dobbie said. "She couldn't believe that Madonna let the Kabbalah people have such a heavy hand in it through all of these years that she was loyal to her.