Lindsay Lohan's Betty Ford Brawl — Listen To 911 Call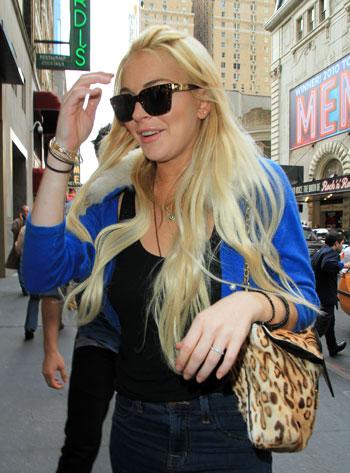 Lindsay Lohan is heard arguing, screaming and even grappling with Betty Ford worker Dawn Holland during the dramatic 911 call obtained by RadarOnline.com.
The incident occurred on December 12, 2010 when Holland accused an "out of control" Lohan of throwing a phone at her after being caught allegedly drinking and violating curfew - which lead the Palm Desert Police Department to investigate the 24-year-old for breaching her probation.
Article continues below advertisement
"I'm sorry...I'm really uncomfortable with the woman that's in our house. I've never seen her before and she's freaking me out," Lohan is heard telling the 911 operator.
Holland is then heard on the phone telling the officer she wants to speak with him but only if Lohan gets off the phone.
A wrestle for the phone ensues and Lohan is heard in the background yelling, "You f**cking c*nt!"
"Lindsay, you need to pack your sh*t," Holland tells her.
"Now I'm getting ready to file charges on you. Get ready to be sued!"
Lohan asks: "What, you want money?"
"No. What I want is to be treated the way I'm treating you...you are disrespectful!" Holland says while Lohan argues in the background.
"She tried to snatch the phone from me, hit me with the other phone she had and then here she pushes me in front of Kelly and in front of Catherine. I'm done with her."
Article continues below advertisement
Most of the 911 call conversation appears to go on between Holland, Lohan and others in the home, while the operator remains clueless to what is going on.
Eventually Holland gets back on the phone and explains the situation to the operator.
"This property belongs to the Betty Ford Center as you probably already know. We had three ladies in one of our houses that snuck off and jumped over the wall," Holland said.
"They just got back about 20 minutes ago so per our administrator on call we were supposed to breathalyze them upon their return.
"Two of the ladies are reeking of alcohol. One of them breathalyzed at .010, the other one refused to breathalyze. The one that refused, she did admit to drinking."
Holland then explains that Lohan has refused a breathalyzer test as well and is being uncooperative.
"The third party which is Lindsay Lohan is being rude. She's gotten on the phone with her mom and she's telling her mom I'm being rude to her, which I'm not, I'm just asking her to come into the living room to breathalyze like the other two ladies were doing," Holland tells the operator.
Article continues below advertisement
"But I have a problem because Lindsay Lohan pushed me and hit me with the phone while I was trying to talk to you."
The officer then asks her if she wishes to press charges to which she says, "Yes, I think I do."
Holland also tells the operator that one of the girls, Kelly, wanted to talk to her in private but Lohan will not allow it and was coaxing Kelly "not to say anything."
The release of the outrageous 911 call comes just three days after the Riverside County District Attorney PIO told RadarOnline.com that they were not filing charges "due to insufficient evidence," meaning that they did not find credible evidence to prosecute Lohan for the alleged altercation with Holland at her rehab center.
Listen to Lindsay Lohan's 911 Call From Rehab