Exclusive
Kim Kardashian -- 'It's Time To Recognize The Armenian Genocide'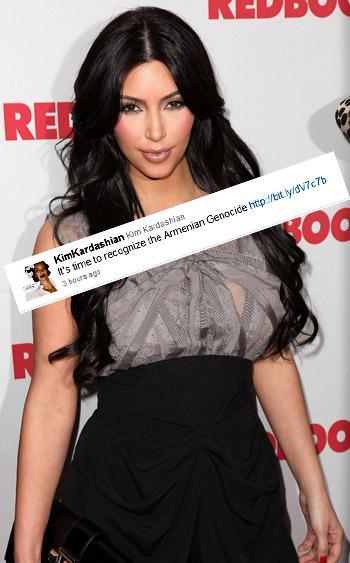 RadarOnline.com Staff Reporter
Kim Kardashian is taking a stand, urging Turkey to finally recognize the Armenian Genocide.
The sultry Kardashian took a moment out of her glamorous life to post a message Thursday afternoon to her legions of Twitter followers and also wrote a blog on her website detailing her stand on the 1915 atrocity.
"It's time to recognize the Armenian Genocide," Kim tweeted.
Article continues below advertisement
With President Barack Obama in Los Angeles on a brief visit, thousands of Armenians throughout Southern California are gathering for a public protest to call on him to honor his broken campaign pledge to officially recognize the Armenian Genocide.
"My family and I are incredibly proud of our heritage. My dad taught me a lot about Armenian culture, and I have a strong connection with my roots," Kim wrote on her website.
"Even though so many countries around the world recognize the Genocide, the government of Turkey still denies it."
Kim said that recognition is important to her saying, "Out of respect for all those innocent people that died, I'm putting a spotlight on it today.
"Until this crime is resolved truthfully and fairly, the Armenian people will live with the pain of what happened to their families and the fear of what might happen again to their homeland.