Kim Kardashian Responds To Turkish Cosmo Cover Controversy 'I Had No Idea' Photo Was Running This Month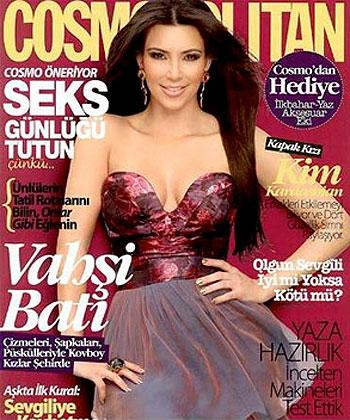 Reality star Kim Kardashian graces the cover of Cosmopolitan Magazine in Turkey this month, and she addressed the rumors that she is upset about being featured during Genocide Remembrance Day.
"I just found out today that I am on the cover of Cosmopolitan Magazine in Turkey this month," Kim wrote on her blog on Monday.
Kim, 30, explained that she was unaware that her picture would run during the month of Genocide Remembrance Day, which honors the victims of the 1915 Armenian genocide by the Turks.
Article continues below advertisement
"Cosmopolitan Magazine has a number of international editions all around the world that run in various territories, and when I did this shoot for the international covers I had no idea that Turkey was planning to run my story on their cover THIS month, considering Genocide Remembrance Day is this month."
"My Armenian heritage means a lot to me and I've been brought up to be incredibly proud of my family's background and culture so as an Armenian-American woman it is a huge honor for me to be on the first ever Armenian Cosmopolitan cover," Kim continued.
"I have an amazing relationship with Cosmopolitan Magazine. World-over, Cosmo is known as a fun and inspiring magazine for women of all races, shapes, sizes, regardless of their political beliefs and I really hope that if I can bring awareness to the issue, then this in an accomplishment."
A representative from Cosmo magazine gave a statement to The Wrap about Kim on the cover but did not address the controversy. "Kim Kardashian is one of our favorite cover girls. We were thrilled to have the opportunity to photograph her for the Cosmopolitan editions worldwide."