Festival Fashion! Stars Sizzle & Fizzle At Coachella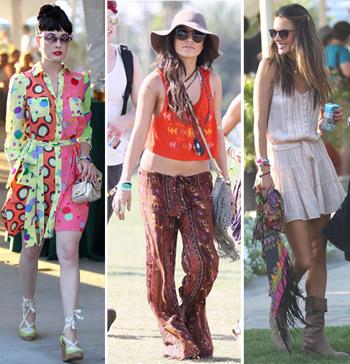 by Leah Ornstein
Radar Style & Beauty Editor
Leave it to Hollywood's hottest stars to rock fashions hot off the runway to a music festival! RadarOnline.com has got the lowdown on who sizzled and fizzled on the fashion front at Coachella over the weekend in this special photo feature.
With the temperature nearly touching 100-degrees, the 'less-is-more' mantra prevailed, as many stars wore bikini tops in lieu of bras and showed as much skin as possible.
Article continues below advertisement
Some of our favorite looks included Katy Perry, who looked very vintage in a terrifically tiered D&G lace frock, Diane Kruger, who rocked two classy and cool tres-Chanel looks and Dita von Teese, who looked burlesque beautiful in Moschino a la mode.
Boho blunders were courtesty of Sucker Punch star Vanessa Hudgens, whose belly-baring duds failed to make a style statement, and Tara Reid, who wore UGG boots despite the deathly temp.