EXCLUSIVE INTERVIEW & PHOTOS: New Madonna Tell All Book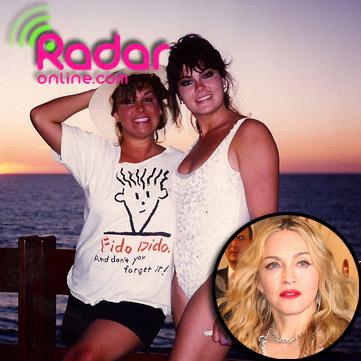 Yvette Dobbie the sister of Madonna's late ex-manager Caresse Henry is planning to write a book about her sister's life, RadarOnline.com has exclusively learned.
In an exclusive video interview, Yvette revealed how the superstar performer callously axed her loyal sister after 13 years of service via fax, and after her death, sent Yvette a legal letter trying to block her talking about Caresse.
Yvette firmly believes that Madonna's involvement in Kabbalah changed the performer and led to the two women splitting which resulted in her sister plunging into a deep and dark depression.
Article continues below advertisement
Yvette told RadarOnline.com: "I have been working on a manuscript for around a year and have had tentative talks with several people about publishing it.
"My sister was an amazing woman and I want to get her story out there - it will be about her entire life not just about her time with Madonna and the influence Kabbalah played in their relationship.
"I have taken legal advice after she sent us her lawyer's letter and there is nothing preventing me from going ahead with my book.
"There have been a lot of un-truths spoken about Caresse, and I want to separate the myths from the facts and set the record straight once and for all.
"My sister was a remarkable human being who went on an incredible journey and I want to celebrate that."
The book is tentatively titled Losing Caresse.
The news of a potentially embarrassing book will come as another blow to Madonna who has never publicly spoken about her former assistant and manager since her untimely death.
Article continues below advertisement
Tragically, mother of two Caresse, killed herself via a gunshot in an Irvine, California apartment on March 31, 2010, aged only 44.
During her colorful career the mother-of-two also worked with Paula Abdul, Andrew Dice Clay and Joss Stone before she took her own life.
Caresse Henry was hired as Madonna's personal assistant in July 29, 1992, before becoming her manager in 1996. She was terminated via fax in November 2004; the dissolution of their agreement was formalized by May 2005.