Exclusive
EXCLUSIVE INTERVIEW: DWTS Alum Jerry Springer Rooting For Hines Ward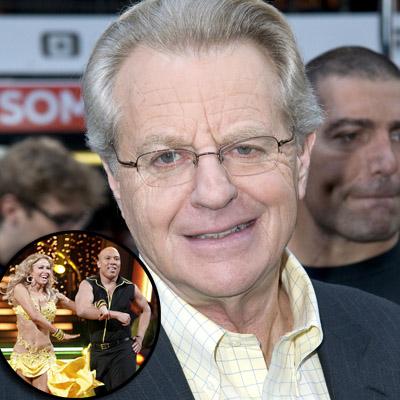 Jerry Springer may have officially hung up his dancing shoes, but that doesn't mean he isn't a fan still of the wildly popular Dancing With The Stars, which returns Monday night on ABC.
The season 3 alum is rooting for his former pro partner Kym Johnson and football great Hines Ward, he tells RadarOnline.com exclusively.
"Kym was my partner and I'm going for her and her partner. I'm hoping Hines Ward will win!" Jerry said.
Article continues below advertisement
"Other than the fact that he's a Pittsburgh Steeler, it's hard for me to forget what team he plays for. And he's a totally cool guy!
"He's an athlete and most athletes do well because no matter how hard they try they always look cool, even if they miss a step their bodies know how to get it under control."
Unlike previous seasons, cast members of season 12 may not be as tabloid rich, but Jerry believes that could be a good thing, as he says drama should not be the main focus of the ABC show.
"They may have taken a hit last time with too much drama," he said. "And now they're going back to what the show is really about. This time they seem to back on track with what the show is about -- the dancing -- not who's dating who and who's fighting.
"I think there's built in drama because you're taking a celebrity out of what they normally operate in and out of their comfort zone of what they're known for.
Article continues below advertisement
"It's always a fun source of entertainment because it's a show the whole family can watch and they're doing what 99% of the population feels uncomfortable doing, especially in front of an audience. It's very humanizing and, of course, there's all the attractive people."
In 2006, Jerry made it seven weeks before being voted off. But don't look for him to start hoofing it again any time soon.
"No, not because it wasn't wonderful though. I did it for my daughter," he confessed.