Exclusive
Elizabeth Taylor Left Struggling Ex-Husband $825k In Will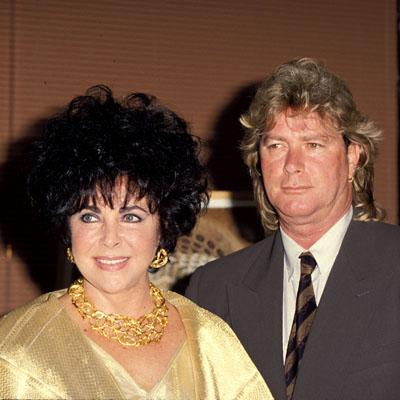 By Cliff Renfrew
RadarOnline.com Staff Reporter
Big-hearted film star Elizabeth Taylor left her struggling eighth and final husband Larry Fortensky $825,000 in her will.
Screen icon Taylor, 79, who died last month from congestive heart failure, always held a soft spot for the former construction worker who she affectionately called "Larry the lion".
Fortensky, 59, who now lives like a virtual recluse in a small California town learned about the windfall when he received a letter from Taylor's lawyers last week.
Article continues below advertisement
Taylor and Fortensky met at The Betty Ford Clinic before getting married in 1991 At Michael Jackson's Neverland Ranch.
The pair divorced in 1996 but remained friend until she passed away, with Fortensky always refusing to talk about their relationship with the media.
Speaking to the UK's Mail On Sunday newspaper Fortensky revealed: "I have wonderful memories of my time with Elizabeth and I will treasure them forever."
Fortensky revealed that when they first met she was being treated for addiction to pills while he was being counseled for alcohol addiction.
He added : "She was funny and sweet and the more I got to know her the sweeter she became. Of course she was very pretty and I wasn't too bad looking in those days either – we had an instant physical attraction."
COURT DOCUMENTS: Notice To Creditors Of Elizabeth Taylor
Article continues below advertisement
Fortensky suffers from short term memory loss after suffering from a fall and is now cared for by his sister Donna in their small rented home in the tiny town Menifee two hours outside Los Angeles.
It's a world away from the lavish lifestyle he used to enjoy with Taylor, rubbing shoulders with the rich and famous and jetting all over the world.
At their wedding the gust list included Liza Minelli, Eddie Murphy, Gregory Peck and Nancy Regan.
At the reception Michael Jackson spent the night dancing away on the dance floor with a small child under his arm - although Fortensky admitted that he could not hear his own wedding vows because of the paparazzi helicopters hovering overhead !
But within a few years their marriage started to flounder as the former construction worker began to feel trapped having left his job to travel around the world with his famous wife.
Article continues below advertisement
Fortensky began to hate the constant attention and it was Taylor who asked for a divorce in 1996 because she knew that neither of them was 'happy' – he left the marriage with only $1.5 million despite her estimated fortune of around $200 million.
But the pair remained friends with Taylor once sending him a cheque for $15,000 to prevent his then home from going into foreclosure.
The couple would talk on the phone at least twice a month – their last call was the day before she went into hospital for the last time.
Fortensky revealed: "She was going into hospital the next day. I thought she was going to be okay – I told her she would outlive me, She said 'Larry , I'm going to be OK.'"
Sadly, a few days later he learned of his former wife's death on television.
"I was so shocked – I was so sure she would get to go home and I would talk to her once again," he added.
RELATED STORIES: