Charlie Sheen Begs Fans 'Help Me Get My Job Back'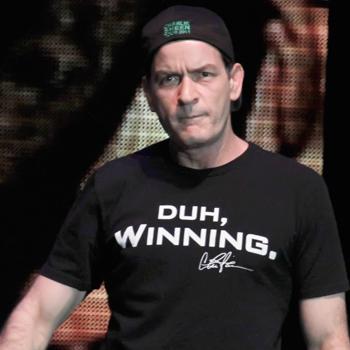 by RadarOnline.com Staff
Performing in Tampa, Fla. Friday night, Charlie Sheen made fun of Roger Ebert's cancer....alluded to a ridiculous decades-old urban myth about Richard Gere and a gerbil...was flashed by an intoxicated female....and begged his fans to help him get his Two and a Half Men job back.
But with almost half the seats in the house empty, his fan club looks to be waning.
The most interesting element of Friday's show, according to The St. Petersburg Times, was the emergence of sidekick Jeffrey Ross as a real star in the comedy world.
Article continues below advertisement
Ross is already well-known as a "roastmaster," and held that role in the Comedy Central Roasts of Joan Rivers, David Hasselhoff and Donald Trump. He took over the stage for a mini-roast of Sheen, saying "You've made your dad ashamed to have the same fake name with you."
But with only seven shows left in his My Violent Torpedo of Truth/Defeat Is Not an Option tour, Sheen seems to be increasingly concerned about his career future.