Exclusive
Charlie Sheen: He Sees The Goddesses More Than His Own Sons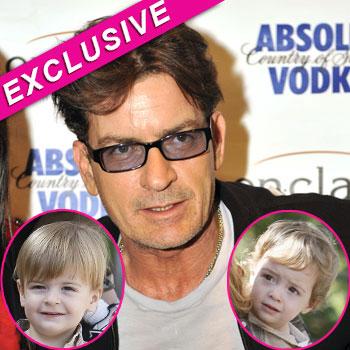 By Jen Heger
Former Two and a Half Men star Charlie Sheen hasn't seen twin sons Bob and Max since his Violent Torpedo of Truth Tour began three weeks ago.
That's why Judge Hank Goldberg refused to award custody of the toddlers to the troubled actor, instead choosing to leave them with a mother in drug rehab, sources said.
Sheen called an emergency custody hearing after learning that his soon-to-be ex-wife, Brooke Mueller, was back on crack – and subsequently re-entered a treatment program.
Article continues below advertisement
A source connected to the case tells RadarOnline: "Judge Goldberg didn't feel that a change of custody was in the best interest of the boys at this time. He indicated that if Charlie wasn't currently on tour through the end of the month, perhaps, his decision might be different.
"As it stands, Charlie is allowed to see them every other weekend, with his own nannies taking care of them.
"Charlie wanted to see his sons while he was in Los Angeles Monday. Charlie's attorney made the request, but was shot down by Brooke's lawyer because it wasn't his day to see them."