Better2gether Helps Couples Shape Up For Summer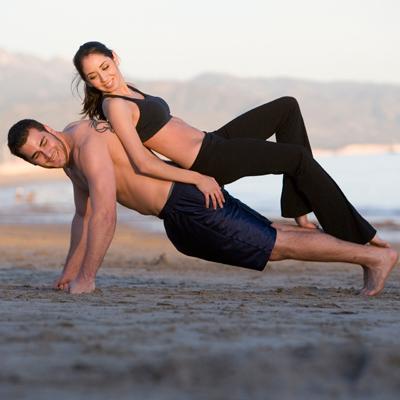 Yes, it's that time of year again: Spring is upon us, meaning summer's just around the corner, and perhaps it's time for you and your sweetie to shed those pounds for the months ahead, when sweaters are replace by swimsuits, and let's face it -- there's nothing to love about those embarassing love handles.
Thankfully, our friends at Shape and Men's Fitness, experts in the field of looking good and staying healthy, have teamed up with Sensa Weight-Loss System to launch Better2gether, a plan for couples that's fun, sexy and interactive.
Article continues below advertisement
VIDEO: Scott Disick: 'I Don't Care How People Feel About Me'
The three-month program integrates time-tested weight-loss tips, nutritional/lifestyle advice and interactive workouts for couples looking to shed pounds in unison. In addition, plenty of sample workouts -- with easy-to-follow explanations of each move, along with photos and a video demonstration -- are provided.
None of the workouts require equipment -- just a partner and motivation. Those who sign up will receive weekly e-newsletters detailing new exercises.
Matthew McConaughey Explains How He Stays In Shape To Men's Fitness
One of the keys to Better2gether relies on the buddy system, as years of research which shows that people who work out with a buddy lead healthier lives and stay more consistent with their fitness routines. Building upon that point, a University of Pittsburgh study found that women who worked out with a partner lost 33 percent more than those who exercise alone.