AUDIO: Karina Smirnoff 'Shocked, Panicked' During Dancing With The Stars Fall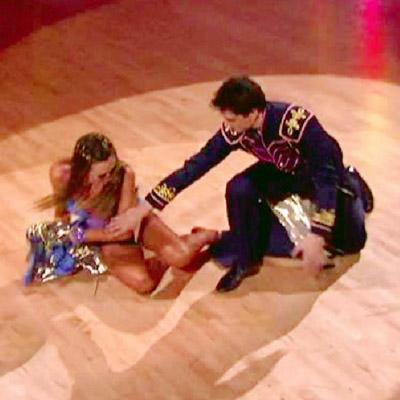 by RadarOnline.com Staff
Smirnoff, who fell during her Monday night number with her celeb partner, The Karate Kid's Ralph Macchio, said she was "shocked, panicked and asking for divine intervention" after the slip-up.
The 33-year-old Playboy covergirl, appearing with Macchio on KIIS-FM's On Air with Ryan Seacrest Tuesday, said she "just tripped on Ralph's coat and landed on my butt ... I felt like I was sitting there in slow motion."
Article continues below advertisement
"I didn't see it until I was about to stand up for the part of the dance where we come together ... and I realized I was coming together by myself!" Macchio said. "My main concern was that she was OK."
Smirnoff said, "It's funny, because you rehearse and try your best ... for a second I was thinking, 'Where am I? Is this a show?'"
Listen to the audio on RadarOnline
Smirnoff and Macchio scored a respectable 24 points on the night despite the blunder.
A live special titled Dancing with the Stars: The Road To The Finals will air at 8/7c, before we find out who's going home when Dancing with the Stars airs on ABC Tuesday at 9/8c.