THE WEEK IN PHOTOS: Snooki Brawls, Biel Hits The Town & Mel Says Cheese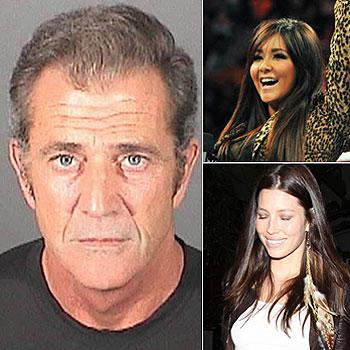 One-time Playboy cover girl Jenny McCarthy was snapped basking in the warm sun of South Beach, showing off her sexy bikini body in a black two-piece she paired with a black fedora and aviator sunglasses. Jim Carrey's ex was joined on the beach by her new love, sports agent Paul Krepelka.
Snooki hosted Monday Night RAW, getting in a fracas with diva Michelle McCool and her heel cohorts. Pop culture's favorite party girl, in a special six-man tag team match at WrestleMania 27, will attempt to become the greatest -- or at least most-popular -- Italian-American grappler in the WWE since the legendary Bruno Sammartino.
Article continues below advertisement
Eva Longoria threw herself a lavish birthday party Saturday night, and pal Kim Kardashian shared the event with her Twitter followers, tweeting a photo of herself dressed to the nines with bright red lipstick. "All glammed up for a fun 1920s themed party!" She tweeted.
Just days after confirming her break-up from Justin Timberlake, sexy Jessica Biel was spotted out and about looking unaffected by the split. The A-Team beauty headed out to Hollywood's newest hotspot, Cafe Entourage, on Saturday night, where she threw an intimate birthday dinner for her brother Justin.
Britney Spears, her ex-husband Kevin Federline, and her current boyfriend Jason Trawick were all seen at the Little League baseball game of Brit and Kevin's son Sean Preston on Saturday. The sandlot game marked the first time the Gimme More singer and her ex-husband were photographed together since their 2006 split.
On the day after Mel Gibson pleaded no contest to a misdemeanor battery charge, Oksana Grigorieva and a male friend took in a movie. Oksana told us in a statement she's content with the legal outcome of the aforementioned case, as her baby's father was sentenced to three years probation, 52 weeks of domestic violence counseling, 16 hours of community service and a small fine in connection with his January 2010 attack on her.
Article continues below advertisement
Brooke Mueller threw a birthday bash for her twin sons with Charlie Sheen, Max & Bob, who turned 2-years-old this week. Brooke's good friend, Paris' mom Kathy Hilton, opened up her estate for the party Sunday, which was attended by Nicky Hilton and her boyfriend David Katzenberg, among others.
Jemmye Carroll and Ryan Knight, two Real World: New Orleans cast members were arrested over the weekend after an altercation with a Panama City Beach, Florida nightclub bouncer where Carroll claims a bouncer gave her a black eye. She tweeted, "went 2 jail Bc a security guy punched me black eye from a grown a** man yet the police arrest me This is y women are to scared 2 go 2 cops."
Article continues below advertisement
After taking a hiatus following the October birth of her twin sons Nelson and Eddy, Celine Dion returned to the stage in Las Vegas on Tuesday night, looking resplendent in a bevy of stylish and sexy designer dresses and gowns. From a short and sexy gold sequined Balmain mini, which showed off her luscious legs to perfection, to long and luxurious Armani Prive gowns, the soulful singer dazzled the sold-out crowd at Caesars Palace.
Article continues below advertisement
Mel Gibson's comeback flick The Beaver premiered at the 2011 SXSW Festival in Austin Texas Wednesday, though the embattled star was not in attendance -- on the same evening, Gibson quietly appeared at the El Segundo Police Department in Southern California to have his picture taken and fingerprints collected, as part of his sentence for a misdemeanor battery conviction for his attack on Grigorieva.
Rachel Uchitel, the sexy New Yorker who allegedly had an affair with Tiger Woods, finished a private investigator course at top of her class on Thursday after completing the intense, 10-week regimen. "I PASSED. 97 percentile on the Exam.. Graduated top of the class.. So thrilled," she tweeted.