LIVE STREAM: Celebs Express Sorrow As Death Toll Mounts In Japanese Tsunami -- Watch Live Coverage Here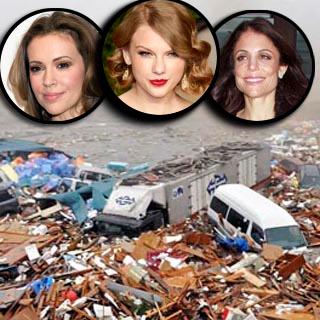 More than 300 people are confirmed dead -- but Japanese media reports that more than 1,000 are presumed dead -- as a massive 8.9 earthquake followed by a 23-foot tsunami hit Japan, and RadarOnline.com is live streaming the latest news as it happens.
As is the case in these technologically-connected times, a number of celebrities took to Twitter to express their thoughts in the wake of the massive calamity.
Article continues below advertisement
"I am sooooo sad to hear about what's happening in Japan. It breaks my heart. Let's pray for the families and their country!" Ciara wrote on her Twitter account.
Justin Bieber tweeted that "Japan is one of my favorite places on earth...it's an incredible culture with amazing people. My prayers go out to them. We all need to help."
Paula Abdul tweeted she's been "GLUED to the tv since early this morning. Japan's heartwrenching disaster is just unbelievable."
"OMG just watched the news!" Snooki tweeted. "My prayers go out to Japan !"
Glee star Chris Colfer tweeted: "i can't believe what i am seeing.. videos of the Tsunami and earthquake = insane =( ugh prayers are with everyone !"
Twilight star Kellan Lutz tweeted he was "praying for everyone in japan,hawaii,and on the west coast!"
The news hit close to home at the "Sober Valley Lodge," where Charlie Sheen tweeted, "Curveball; Warlock edict; pain & devastation in Japan demands us all to dig deep & LOVE THEM VIOLENTLY Dogspeed my cadres of the Far East! C"
Article continues below advertisement
Bethenny Frankel tweeted: "I cannot believe we have another natural disaster in this world again.praying..."
"I'm sending my thoughts and prayers and love to those in Japan who are hurting," Taylor Swift tweeted.
Mel B tweeted, "Watching CNN right now,I can not believe what I am seeing!"
Alyssa Milano sent out a number of well wishes and informational links about the disaster.
Show biz legend Cher was also among those shaken to the core by the tsunami, as she said she's got friends and property in the region.
"Anyone know bout weilea Maui ? I have home & Friends there but no answers from any of them Am concerned," the Burlesque star tweeted, later following up with, "Thanks So Much ! Feel better."
Also impacted by the events was late night funnyman Jimmy Kimmel, who tweeted about how his French Polynesian vacation was cut short as he had to evacuate the area.
"Suddenly, relaxing on an island in the South Pacific isn't so relaxing anymore. Good thing I brought my aqua stilts ... not kidding ... I wish I was joking ... and I'll accept the apologies from everyone who called me an a------ and said 'f--- you' in advance ... I am on an island in French Polynesia, glued to CNN ... thanks to those who sent good wishes - this is crazy ... we are evacuating the island. dogspeed."
Article continues below advertisement
When asked by a follower, "No humor....scale of 1-10 how scared are you," Kimmel responded: "a good solid 7. on a small island, with no high ground."
In response, President Barack Obama said in a statement Friday, "Michelle and I send our deepest condolences to the people of Japan, particularly those who have lost loved ones in the earthquake and tsunamis.
"The United States stands ready to help the Japanese people in this time of great trial. The friendship and alliance between our two nations is unshakable, and only strengthens our resolve to stand with the people of Japan as they overcome this tragedy," Mr. Obama said.
Mr. Obama said he's put the Federal Emergency Management Agency on alert their services might be needed to aid U.S. territory impacted by the disasters.
Hawaii was also hit by the tsunami early Friday, though officials said the damage would likely be minor. Other areas affected included South America, Canada, Alaska and the U.S. West Coast, as all braced for after effects of the disaster in Japan. Twenty countries are under Tsunami warnings.