VIDEO & PHOTOS: Britney Spears Turns Femme Fatale For GMA; Announces Tour With Enrique Iglesias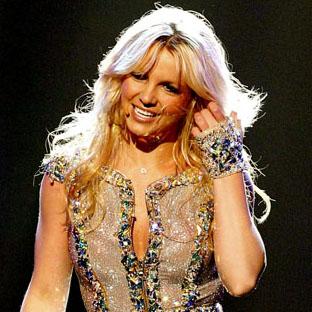 Britney Spears celebrated the release of her new album Femme Fatale by staging a special pre-taped concert broadcast on Good Morning America Tuesday and by announcing that she will be touring this summer with Enrique Iglesias, and RadarOnline.com has a clip from her performance for you.
During the concert -- taped Sunday at the Bill Graham Civic Auditorium in San Francisco -- Britney performed several songs off her new album, starting with the dance single, Hold It Against Me, followed by Big Fat Bass and her latest single, Till the World Ends.
Article continues below advertisement
GMA anchor Robin Roberts and weatherman Sam Champion were on location to talk to Spears, 29, and present her with a framed proclamation declaring it "Britney Spears Day" in the City by the Bay.
Speaking to Roberts and Champion on stage, an exuberant Spears said: "Thank you so much for all your love and support. You guys are beautiful," she told the audience. "I love it. I love music. It's my world. It's my everything."
All week, GMA had been teasing us in commercials that Brit Brit would make a big announcement, and she did, telling Roberts: "I'm going on tour with Enrique Iglesias in June."
And in case you hadn't guessed it: Femme Fatale -- Britney's seventh studio album -- drops Tuesday.