Exclusive
VIDEO: Meet Charlie Sheen's 'Goddesses', The Second Mothers To His Twin Boys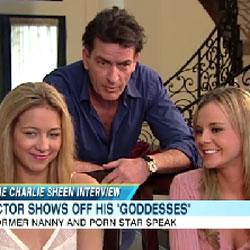 The Charlie Sheen saga raged on Tuesday, where the actor introduced his two live-in loves, graphic designer Natalie Kenly and porn star Rachel Oberlin -- heretofore referred to as "The Goddesses" -- in a segment on ABC's Good Morning America Tuesday.
"You've read about the goddesses, come on," Sheen said. "They're an international sensation. These are my girlfriends. These are the women that I love that have completed the three parts of my heart."
Article continues below advertisement
Oberlin, better known by her XXX stage name Bree Olson, explained the bizarre dynamic that's making Sheen's home a happy one in spite of the surrounding turmoil.
"Natty and Charlie have their own special connection, I have my own connection with Charlie and then Natty and I also have our own relationship," she said, while Kenly added, "It seems crazy to everybody else, but for us it works."
Sheen said he views both women as motherly figures to his 1-year-old twin boys, Max and Bob.
"All you can do with kids is love them," Kenly said. "It's not a wild scene with jealous girls and ex-wives and all this kind of stuff. It all very... we love Charlie, you know?"
Sheen told ABC News he find himself attracted to adult film stars because "you already know what you're getting before you meet them."
"They're the best at what they do and I'm the best at what I do," he said. "And together it's like, it's on. Sorry, Middle America. Yeah, I said it."
Watch the video on RadarOnline.com
ABC's full interview with Charlie Sheen on a special one-hour edition of 20/20 tonight at 10 pm ET.