VIDEO: Karen Rodriguez Eliminated On American Idol -- It's Down To The Final 11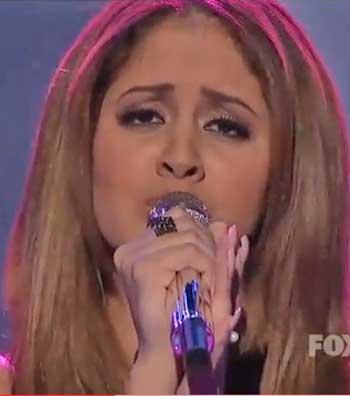 With the fewest votes, 21-year-old New Yorker Karen Rodriguez was eliminated on Thursday night's edition of American Idol, and RadarOnline.com has all the details of the star-studded evening for you.
Rodriguez, who sang Taylor Dayne's Love Will Lead You Back on Wednesday's program, was joined in the bottom three by Naima Adedapo and Haley Reinhart.
After Rodriguez tried to save her spot with a rendition of Mariah Carey's Hero, the judges commiserated, ultimately deciding they weren't going to going to use their one save for the season to keep her in the competition.
Article continues below advertisement
Rodriguez, a good sport, said "it just felt great to at least have that one last chance" before exiting the stage.
In a group number that would made the cast of Glee proud, the finalists did a rousing mash-up of Steppenwolf's Born to Be Wild and Lady Gaga's Born This Way.
The show also hosted two high-profile acts Thursday, in returning champion Lee Dewyze, who sang Beautiful Like You; and pop mega-stars the Black Eyes Peas, who performed Just Can't Get Enough as a tribute to Japan.
The remaining contestants in this year's competition include boys Casey Abrams, Scotty McCreery, James Durbin, Jacob Lusk, Stefano Langone and Paul McDonald; and girls Pia Toscano, Lauren Alaina, Thia Megia, Adedapo and Reinhart.
Watch the video on RadarOnline.com
American Idol returns Wednesday on Fox at 8/7c; we'll keep you up-to-date on all the happenings right here on RadarOnline.com.
RELATED STORIES: