VIDEO: American Idol Shocker! Casey Abrams Voted Off; Judges Use Their One Save For The Season To Keep Him On Show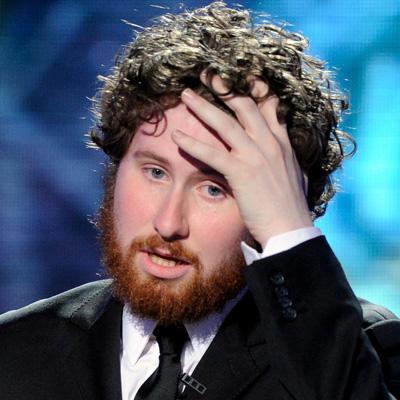 In a shocking turn on American Idol, fan favorite Casey Abrams was voted off the show Thursday night, but the judges wouldn't hear of it, and in dramatic fashion, they used their one save of the season to keep him on the show -- a move that nearly led to Abrams fainting, and RadarOnline.com has the dramatic clip.
Abrams -- a doughy, bearded 20-year-old Seth Rogen look-a-like from Idyllwild, California -- was one of the last two remaining contestants with the lowest viewer votes, along with Stefano Langone. After Langone was granted a week's clemency, it was up to Casey to save his spot with a final performance, and he nervously launched into a rendition of Ray Charles' I Don't Need No Doctor.
Article continues below advertisement
But before he could even make it through the chorus, judge Randy Jackson stood up and interrupted him, in what made for the show's dramatic crescendo of the season, so far.
PHOTO: Jennifer Lopez Brings Twins Max & Emme To Idol Set!
"We know who you are, Casey," Jackson said. "We don't need to hear you sing anymore, do we Steven?"
Said judge Steven Tyler: "Yeah, this is crazy wrong -- we made a decision here to keep you on."
"They're using the one save for Casey Abrams! " host Ryan Seacrest said.
Abrams, visibly-rattled, said after he was grateful for the second chance.
"I thought that they were -- I knew that if there was someone that got cut tonight -- I thought that they wouldn't use the save because there's still 11 people," Abrams, a camp counselor, said. "Oh my God! It's unreal! I started singing and the fact that you cut it scared the stuff out of me.
Article continues below advertisement
"I'll make you proud!"
Watch the video on RadarOnline.com