AUDIO: Charlie Sheen: Cops Were At My House Today -- Hear His New Interview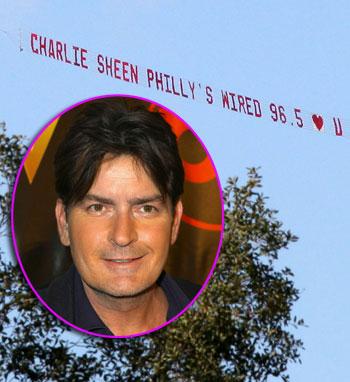 Charlie Sheen took to the airwaves Thursday afternoon to vent once again and let everyone know that the cops paid him a visit today RadarOnline.com has learned.
Earlier in the day Sheen tweeted that a deal has been worked out with his estranged wife Brooke Mueller, who filed a restraining order against the troubled actor Wednesday, but now it seems there's a new legal addition to the Sheen saga.
"Everything was fine until everyone started calling me saying 'the cops are coming to arrest you', and I'm like 'but it's not even three o'clock,'" he laughed.
Article continues below advertisement
AUDIO: Charlie Sheen Claims Cops Visited His House Today
"We reached a deal," he added. "I can't say what it is obviously. But there's no court Monday," he said during the radio interview, adding: "and there's some leftover something that they decided was important enough to bring to my attention with cops as delivery people."
When pushed further by the Wired96.5 radio host in Philadelphia, who actually offered him a job by flying a banner over his house, Sheen dished a few more details.
"I'm talking about opposing counsel sending some type of letter or notice in the friendly delivery system of our city's finest.
"It's alright, it's fine, whatever it is, it's fine. I'm not worried.
They can't really ruffle this assassin's feathers."