David Arquette Involved In Head-On Collision, Rep Tells Radar 'He's OK'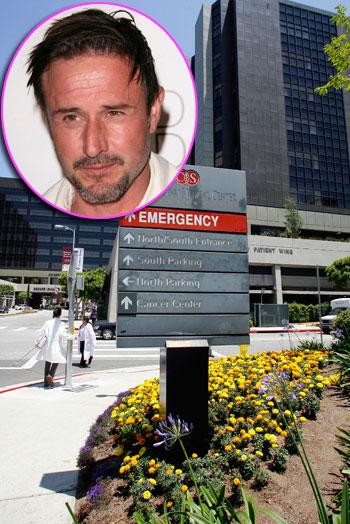 David Arquette has been involved in a head-on car collision, RadarOnline.com can report.
Arquette's rep confirmed that her client had been involved in a car crash, and told RadarOnline.com: "He's ok and on his way to be treated."
When asked if he had any serious injuries, his rep replied: "That's all I know."
An eyewitness tells RadarOnline.com exclusively: "There was a car stopped in the road and Arquette tried to go around it and that's when he hit the other car head on.
Article continues below advertisement
"He got out of his car and walked over to see if the other lady was OK. He started feeling dizzy and went to lay down on the ground and started gasping for air.
"He was in and out of consciousness. The first thing he said was 'is she OK?' referring to the other driver involved in the accident."
The 39-year-old actor, who is currently estranged from actress wife Courteney Cox, was driving in Beverly Hills around 2.10 pm when the crash occurred, on the intersection of Elevado Avenue and Doheny Drive.
Arquette's silver Cadillac shows signs of severe damage to the front end and David has suffered injuries, he is currently being treated at Cedars Sinai Hospital.
A press release from the Beverly Hills PD reports that: "The drivers of the vehicles were the only occupants" and that both suffered "minor to moderate injuries".
UPDATE: A source told RadarOnline.com that David is getting an MRI at Cedars Sinai Hospital now. According to another source, David's estranged wife, Courteney Cox, was called and she is aware of the accident.