PHOTOS: Sexy Stars And The Tattoos They Had Removed!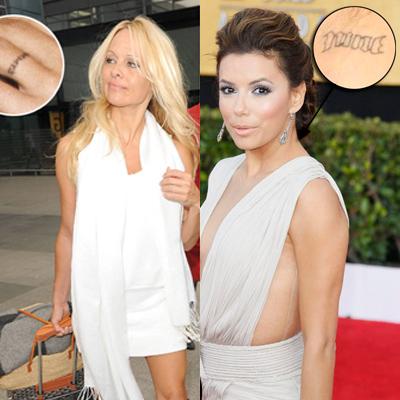 Hollywood stars never do things quietly, and when they're in love they shout it off the rooftop, buy each other expensive cars and even tattoo their lovers' names somewhere on their body. But when things go south in the relationship they get creative with their tattoos and instead of living with a lifetime of regret they turn their personalized body art into more beautiful markings.
RadarOnline.com has a list of the sexy stars who've inked their lover's name on their body and then had to change it up.
Article continues below advertisement
Beauties like Kristin Cavallari, Angelina Jolie, Eva Longoria and even cool dudes like Johnny Depp had to transform their beloved tats.
Check out the gallery on RadarOnline.com of the sexy Hollywood stars who painted on their lovers' names and then had to re-ink a different message after a split.
RELATED STORIES: