PHOTOS & VIDEO: Rihanna's Family Heartbreak: 'What Do I Mean To My Father?'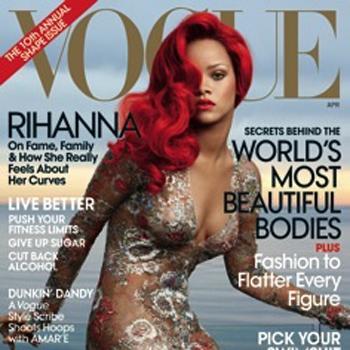 Rihanna openly cries as she opens up about her rocky relationship with her father, Ronald Fenty, in the April issue of Vogue, and RadarOnline.com has details and pics from her sexy photo shoot.
Although the Umbrella singer, 23, talks about everything from fame to her flawless figure in the wide-ranging interview, her candid comments about the man she calls 'dad' strike closet to home -- and to her heart.
Article continues below advertisement
Rihanna tells Vogue that since she and the writer last met only a few weeks earlier, her relationship with her father has gone from bad to worse, as he has sold out to a tabloid, airing dirty laundry and giving the rights to publish some of her childhood photographs.
"It really makes me question what I have become to my father. Like, what do I mean to him?"
During the interview, the writer points out how, at this point in their conversation, the Bardados beauty, looks away for a moment, and there are tears running down her cheeks.
"It's really strange. That's the only word I can think of to describe it, becaue you grow up with your father, you know him, you are part of him, for goodness sake! And then he does something so bizarre that I can't begin to wrap my mind about it. You hear the horror stories about people going behind people's backs and doing strange things, but you always think, not my family. My father would never do that to me."
Article continues below advertisement
Rihanna says it's not the first time her father has betrayed her. She points to an incident that happened right after Chris Brown assaulted her before the Grammys two years ago.
"That was the first time," she says. "My dad went to the press and just told them a bunch of lies. Because he hadn't talked to me after.. that whole thing... He never called to find out how I was doing, if I was alive, nothing. He just never called. He went straight to the press and got a check.
And now he does it again. Now I'm like. Whatever. I tried."
The article also features a series of stunning photographs of Rihanna taken by iconic photographer Annie Leibovitz.
You can read the entire interview with Rihanna in the April issue of Vogue.
For an exclusive behind-the-scenes look at Rihanna's photoshoot, see the video here.