VIDEO & PHOTOS: Record Crowd Turns Out For First 'X Factor' Audition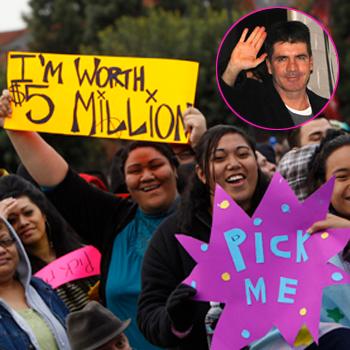 Simon Cowell's new singing competition is sure to be a winner, if the size of the crowd auditioning in Los Angeles Sunday is any indication, RadarOnline.com can report.
The X Factor, which has been a hit in the UK for several years, will have an American version premiering this fall on Fox. It allows ages 12 and up to compete, has no upper age limit, and accepts singing groups.
An estimated 18,000 hopefuls turned out at the Los Angeles Memorial Sports Arena for the first of several audition opportunities that will take place around the country this spring.
Article continues below advertisement
Freeways were jammed around the Arena, and hundreds of hopefuls had camped overnight, for what is believed to be the largest-ever talent audition in L.A.
Paul Suffolk, 25, who traveled from North Carolina for the chance to be a star, told us, "I've driven all the way to be here and slept in my car. I will be the next X Factor winner. Simon Cowell will be amazed, I promise you that."
Added Angela Short, 14, from nearby Huntington Beach, CA, ""The reason I love The X Factor is because I'm not too young to take part. I can't wait to meet Simon. This is my dream and I hope he makes it come true."
Additional auditions will take place in Chicago, Miami, Seattle, Newark and Dallas.
But they need look no further than Los Angeles if contestant Archer Paul, 56, has his way. The local resident told us, "I'm ready to battle Simon if I have to. I've got as much attitude as he does and I can't wait to meet him face to face. Bring it on."
RELATED STORIES:
VIDEO: Pia Toscano & Casey Abrams Lead The Pack On American Idol