PHOTOS: Justin Bieber Gets Waxed! (But Does He Even Shave, Yet?)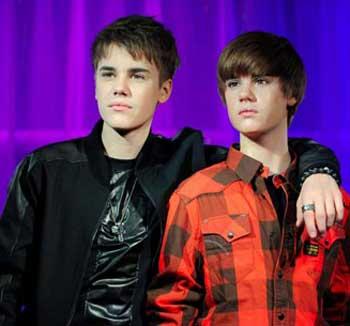 Justin Bieber will be forever young.
Lifelike replicas of the 17-year-old Baby singer were unveiled Tuesday at Madame Tussauds wax museums in New York, Amsterdam and London.
Bieber -- who's currently on tour in the UK -- personally attended the London unveiling and said it was "incredible to see" and joked: "I'm at least six feet taller than this guy."
Bieber playfully posed with his waxed body double, which is dressed in a black-and-red shirt and black jeans teamed with black super high tops.
Article continues below advertisement
"TWINS! lol," the pop star later tweeted a picture of himself and the wax model. Joined by his mother Pattie Lynn Mallette, he added "knew @studiomama had more kids! me and my mom and lil bro http://plixi.com/p/84221484."
"thanks to the fans and @TussaudsLondon for today. from staring thru the glass to being made in wax inside... #neversaynever," he tweeted again.
Bieber posed for the wax figures over an eight-month period last year, and since he modeled for them before he cut his famous locks, they feature his signature 'Bieber-cut' hairstyle, rather than his new chopper, shorter 'do.