PHOTOS & EXCLUSIVE INTERVIEW: Kathy, Paris & Nicky Hilton Honored For Their Work With Kids Charity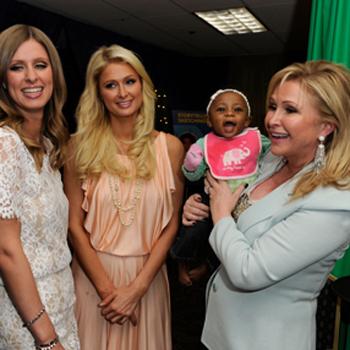 Kathy, Paris and Nicky Hilton were honored Saturday night by the Starlight Foundation, and RadarOnline.com was there.
The occasion was the charity's annual "A Stellar Night" gala and the Hilton ladies were presented with the Heart of Gold Award.
The Starlight Foundation works to brighten the lives of kids facing serious illnesses. They provide everything from mobile bedside entertainment units that can be used in hospitals, to cruises and spa days for the families whose lives have been turned upside down by their child's illness.
Article continues below advertisement
"We've hosted many events at our home," Kathy Hilton tells RadarOnline.com exclusively.
"We've had Easter egg hunts and play dates for children and their families.
"Paris and Nicky always participate and I tell them, 'Take the high heels off! We're playing duck-duck-goose and Red Rover!' There have been a lot of special times. We really enjoy spending time with the families."
Last year the Hilton ladies also designed t-shirts sold exclusively at Forever 21 with proceeds going to the cause.