VIDEO & PHOTOS: DWTS' Carrie Ann Inaba's Surprise Engagement -- On Live With Regis And Kelly!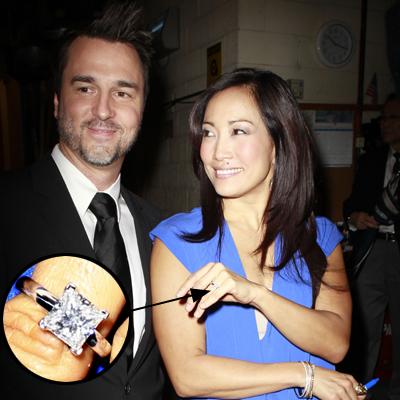 Carrie Ann Inaba probably thought her only engagement Thursday morning was to fill in for a vacationing Kelly Ripa on Live with Regis and Kelly -- but, not so!
The lovely Dancing with the Stars judge was surprised by her boyfriend, Jesse Sloan, who popped the question during the show.
In what would turn out to be a running gag on the show, Inaba, 43, pooh-poohed rumors during the show's opening 'host chat' segment that she was engaged to Sloan, 39, whom she has dated for two years.
Article continues below advertisement
Jake Gyllenhaal -- who was a guest on the show to promote his new film Source Code -- later brought up the subject again by giving Inaba a fake engagement ring.
Jake's gesture turned out to be a foreshadowing of the real thing. Towards the end of the show, during a viewer email segment, Regis presented a fake viewer's question on how he should propose to his girlfriend.
With that, the lights in the studio dimmed, violinists appeared, and Sloan showed up, surprising Inaba with an engagement ring.
"Will you marry me?" he asked. Inaba's responsed: "Yes, I will marry you."
In the final moments of the show, Gyllenhaal and fellow guest Howie Mandel joined Regis and the couple for a champagne toast.
People reported the engagement ring was a 2 1/2-carat, D-color, princess-cut diamond solitaire ring in platinum from Rafinity that contained both the bride and groom's birthstones.
It seems like everyone but Inaba was in on the stunt. "Don't miss the HUGE surprise for Carrie Ann Inaba!!!!" read the show's official Twitter account, @Regis_and_Kelly, midshow.