PHOTOS: Ashley Greene, Emma Stone & Freida Pinto Strip Down For Glamour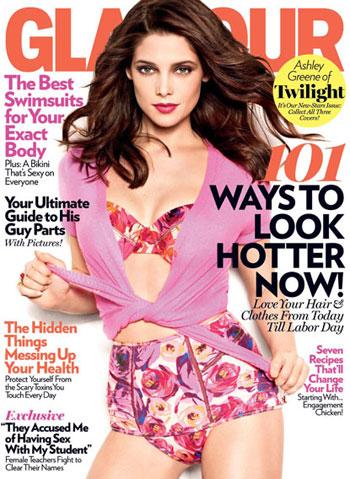 Ashley Greene, Emma Stone and Freida Pinto are all gorgeous stars slated for box office success in 2011. With a collective 14 movies coming out this year, Glamour magazine features the three bombshells in their May 2011 New-Stars issue and RadarOnline.com has the sexy photos and interview highlights.
Ashley, who models everything from a sexy Nanette Lepore bikini to a flirty Dolce & Gabbana dress, talks about life after Twilight, her then-beau Joe Jonas (the interview was conducted days before the two split) and her responsibilities as a 'young Hollywood' celebrity in the candid interview.
Article continues below advertisement
When asked about the Hollywood party scene, the 24-year-old star, whose biggest scandal to date was when nude, personal photos popped up on the internet, revealed that she feels a responsibility to her fans.
"I keep to the ground rules," she explained. "I'm not going to get drunk at a bar. There are younger girls who look up to me. So I do my best not to stray too far."
Ashley, whose split with her JoBro beau was rumored to involve to her ex, Kings of Leon bassist Jared Followill, revealed her relationship boundaries"not talking about exes!
"You need to be able to talk about the difficult things. I don't want us to talk about our ex-boyfriends or ex-girlfriends. The past is the past."
To read the full Glamour interview with Ashley, click here.
Emma Stone, who won fans over in Superbad and Easy A is not your average Hollywood starlet. Revealing to the fashion magazine that she was a "spelling-bee kid," that she is "hard-core about grammar" and that she is 22-years-old and has "no idea what I'm talking about," the cool and collected leading lady discusses the pressures of being skinny in Hollywood.
Article continues below advertisement
"Aw, boy, I'd be crazy to sit here and tell you that I've never thought about it," she reveals. "I never can beat myself up about it. I definitely am not restrictive."
"You're a human being, you live once and life is wonderful, so eat the damn red velvet cupcake."
To read the full Glamour interview with Emma, click here.
And Freida Pinto, who skyrocked to international superstardom with the critically acclaimed Slumdog Millionaire, talks about her overnight success, her offscreen relationship with her Slumdog costar Dev Patel and why she thinks Hollywood relationships are so difficult.
"When a doctor is performing an operation, his mind cannot be somewhere else. And it's the same with actors," she explains.
"You have to commit yourself mind, body and soul to a project in order to do justice to it. And temptations are rife in this industry, which is why I think it's important to know yourself before you try to deal with a relationship."
To read the full Glamour interview with Freida, click here.