PHOTOS: Amanda Knox Appeals Trial Begins In Italy; Testimony Refutes Star Witness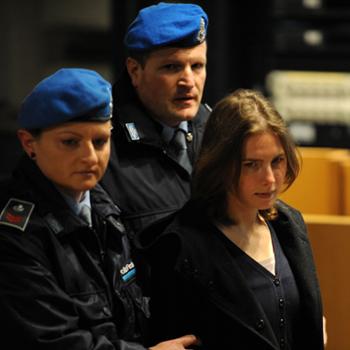 Amanda Knox, her family and legal team all believe the convicted murderer had a very good day in court Saturday as her appeals hearing got underway in Italy, RadarOnline.com has learned.
Six witnesses took the stand, with each one refuting the testimony of the prosecution's star witness Antonio Curatolo, reports the Seattle Post-Intelligencer.
Seattle native Knox was an exchange student in Italy when she and her now ex-boyfriend Raffaele Sollecito were convicted in the 2007 murder of Amanda's Brit housemate Meredith Kercher.
Article continues below advertisement
Key to the prosecution's case was the testimony of Curatoldo who claimed he'd seen the couple near the murder house on the night Kercher was killed. He remembered, he said at the time, because they were among the crowd of students in a piazzi waiting for shuttle buses to take them into the many discos in a nearby town.
The problem with his testimony, said one witness after another Saturday, was that November 1 is All Saints Day, a national holiday in Italy and the discos were closed and the shuttles didn't run.
Knox and Sollecito always claimed they were at his apartment, some distance away, the night of the murder.
Since his testimony during the 2009 trial, Curatolo has been convicted on drug trafficking charges and is currently in prison himself. It's also been revealed that this was the third time the homeless man had shown up as a witness for the prosecution in a murder trial.
Knox was sentenced to 26 years to life in Kercher's murder. The appeals hearing will resume March 26.