PHOTO: Pouting Pals Kim Kardashian & Nicole Richie's Childhood Photo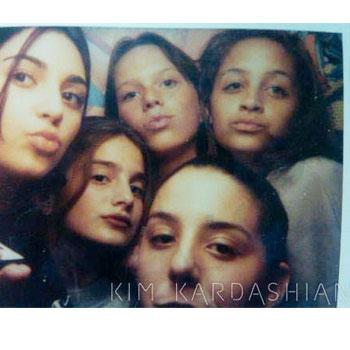 Kim Kardashian and Nicole Richie are pros when it comes to posing on the red carpet, and now RadarOnline.com has the childhood picture to prove they were pouting pals even from an early age.
Kim posted the photo on her website of the two back in their high school days and the curvy reality star admitted that the image caused quite a fright!
"Ok look what Nicole and I found!!!" she wrote. "Seriously! I was 13 and she was 12! Hahahaha. Look at how short my hair was! I literally screamed when I saw this!"
Article continues below advertisement
The blast from the past shows the pair pouting for the camera alongside three other friends, including child star Gaby Hoffmann.
But their casual clothes and make up free faces are a far cry from their polished looks which land them on the best dressed lists today.
The famous group all attended Buckley School in Sherman Oaks, along with other celebs including Paris Hilton.
RELATED STORIES: