PHOTO: Obsessed Julia Roberts Fan Inks 82 Tattoos of Her Face On His Body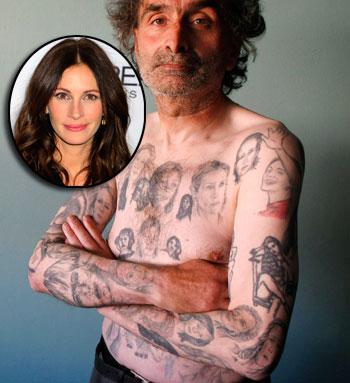 Nothing says love like having someone's face tattooed all over your body!
A Julia Roberts fanatic from Chile has taken his obsession with the actress to extremes by getting her image inked on his torso 82 times, and RadarOnline.com has a somewhat creepy photo of his fan fixation.
Film buff Miljenko Parserisas Bukovic, 56, became smitten with the Pretty Woman star after seeing her Oscar-winning performance in Erin Brockovich and wanted to make a permanent tribute to his beloved.
Article continues below advertisement
The newspaper vendor from Valparaiso, Chile, has dedicated the last decade and over $2,000 to getting images of Roberts' character from the year 2000 hit film tattooed all over his chest, arms and legs.
Bukovic says he wants to get more images of Roberts and Erin Brockovich-inspired tattoos etched into his skin when he has saved up enough money for another trip to the tattoo parlor.
RELATED STORIES: