Ousted 'Idol' Hopeful Ashthon Jones Vows 'This is Not the End'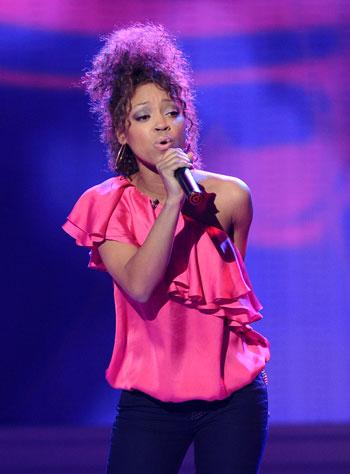 Just hours after she was the first of the 13 finalists to be voted off American Idol, diva-wannabe Ashthon Jones said she's not ready to give up her dreams of stardom.
"This is not the end," pledged Ashthon in a press conference call with RadarOnline.com on Friday morning. "There's no way I can end right here. It's only the beginning of something great."
After it was announced during Thursday night's episode that Jones had received the least number of votes she was given the chance to "sing for her life," but ultimately neither the judges nor the fans deemed her rendition of Diana Ross' When You Tell Me That You Love Me, worthy of moving on.
Article continues below advertisement
Despite crying when she heard she was going to be the first to get the boot, Jones, 25, said she can't wait to see what happens next.
"It's not always a bad thing to be the first person, sometimes it's a good thing," said the former teenage runaway from Valdosta, GA. "Everything I went through on the show, now I'm going to take it and put it into to my career.
"Some of the artists that didn't even win are doing great in their careers and are millionaires, that's kept me sane and driven," she explained.
Jones, who entered the final 13 as a wild card, said she wasn't surprised when she got voted off.
"I had a feeling that there were so many talented people on the show that regardless of whether I had less votes or the least fans, I was a part of those talented people.
"I felt it in my spirit that it was time to go. That's why I went to the hair and make up ladies and said 'I want a Mohawk today.' I'm usually in dresses, but I said, 'Pin my hair up, I'm going to have a good time. Whatever happens, if I get kicked off I'm gonna go out with a bang.'"
Jones is convinced that she'll win a Grammy one day, and in the meantime she wishes her former Idol housemates the best of luck.
"I predict that all of them are going to go far in their career."
RELATED STORIES:
Ryan Seacrest - 'I'm Very Happy'