Natalie Portman's Fiancé Defends Her Amidst Criticism She Had 'Dancing Double' In Black Swan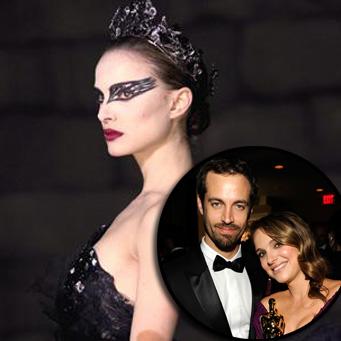 They fell in love during filming, are expecting a child together this year and have been at each other's side for months, so it is no surprise to learn that Natalie Portman's fiancé is defending her amidst criticism that she had a dancing double in Black Swan, ala Flashdance.
In a new interview, Benjamin Millepied, 33, the French choreographer who met the actress ,29, during the grueling filming of Black Swan, responded to naysayers who claim that the dance moves were mostly done by another dancer.
Article continues below advertisement
"There are articles now talking about her dance double American Ballet Theatre dancer Sarah Lane that are making it sound like Lane did a lot of the work, but really, she just did the footwork, and the fouettes, and one diagonal phrase in the studio.
"Honestly, 85% of that movie is Natalie," he told the Los Angeles Times.
Portman -- who trained for a year for the intense dance sequences -- won the Academy Award for Best Actress her role in Black Swan, which will be released on DVD next week.
In the interview, Millepied also spoke admirably about Portman's dancing.
"It was so believable, it was fantastic, that beautiful movement quality," he said.
Millepied also said that his favorite ballet moment in the movie was his fiancée. "What came off best to me was Natalie," he said.
He explained how the sophisticated dance moves were achieved by his fiancée through his choreography and while CGI was used, there were long shots of the ballet. "By making things fluid and not complicated," he said, detailing his efforts to use his fiancés dancing. "By getting more movement going, which in turn added to the camera movement, this is basically what I did. If we had kept things more classical, more restrained, less fluid, it would have been harder to trick the eye."