Justin Timberlake's 'Wandering Eye' Caused Break-Up With Jessica Biel -- He was 'Miserable For Years'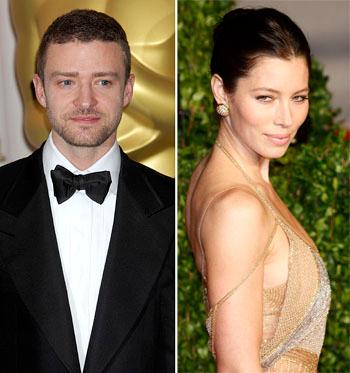 The split between Jessica Biel and Justin Timberlake after four years together is anything but amicable, and is the result of Justin's wandering eye, multiple reports have claimed.
"The two remain friends and continue to hold the highest level of love and respect for each other," the pair's reps said in a joint statement to RadarOnline.com, but apparently that's far from the truth in reality.
Star magazine claims that Justin had been "pursuing women behind Jessica's back," for a while and that he was spotted whispering with co-star Mila Kunis at a recent party.
Article continues below advertisement
Justin reportedly "actively tried to pursue" Kunis last year, but she spurned his many advances.
Mila and Justin filmed nude scenes together for Friends With Benefits in 2010, but despite his telling her that he and Jessica were secretly over, Mila didn't take the bait. Knowing he still had a girlfriend, Mila didn't accept his affections or advances.
In addition, Timberlake was reportedly having "amazing sex" with Olivia Munn in October while they were filming together.
According to other reports, Justin would often use a guy friend as his wingman and cover guy, having the buddy get a number from the girl and leave with her, while Justin would be the one who would eventually hook-up with her.
As Justin's fame is increasing with the attention he received from The Social Network, Jessica had tried being supportive, attending awards season parties with him, but the pair finally called it splits last week.
Article continues below advertisement
And according to Us Weekly Timberlake was "miserable" with dating Biel for a couple of years and had been actively trying to end the relationship since January.
"Justin thinks the breakup will be good because he can focus on his other ventures and just enjoy being single," a source told the magazine. "You'd be surprised at how soon the love was lost on this one.
"Justin said he was miserable for years."