EXCLUSIVE PHOTOS: She's The Original Snooki! See Real Housewife of Atlanta Phaedra Parks -- Before She Was Famous!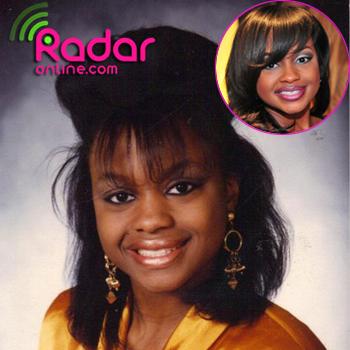 Before Phaedra Parks made herself a household name as a reality star on The Real Housewives of Atlanta she was a high school cheerleader, a horse lover -- and the original Snooki! And RadarOnline.com has the exclusive photos of Phaedra in her younger years .
Phaedra always had a love for riding horses, and was an award-winning equestrian at 17-years-old -- pictured here with her horse, Squiggy.
Article continues below advertisement
"I had been riding since I was 7 years old," she told RadarOnline.com exclusively, pictured with her ribbon. "I did dressage and entry-level jumping and I always placed in the top 3. Then I rode competitively in college."
PHOTO: Kim Zolciak Strips Down For A Cause
At 14, she also had a knack for sports and cheered for Clarke Central High School in her hometown of Athens, Georgia.
"I always loved to cheer," she said. "I think it's definitely a sport."
Phaedra is known on the popular Bravo reality show for her stand-out fashion sense, complete with hats, gloves and old fashioned southern belle charm. And she showed off that same flair for fashion in her teenage years.
Move over Jersey Shore: Phaedra says she had the first Snooki-style poof!
"I'm the original Snooki!" she exclaimed with a laugh. "You tease it at the top, pump it up and just let it hang. You need lots of volume," she said of her signature hairstyle at 19-years-old while attending Wesleyan University.
Article continues below advertisement
In 2009, the successful entertainment attorney tied the knot with her house hubby, Apollo, and last year the happy couple gave birth to their now 9-month-old son, Ayden.
And the new mom has kept photographic memories of all his milestones.
"We did a family photo shoot for Christmas when Ayden was just four months old. And he looked so cute in his little Santa outfit.
"I love photo shoots and to dress up and look like a lady. I wanted to wear something bright and winter white just for the season."
The next mother-son photo op was clothing optional.
"We did a photo shoot for the Wendy Williams Show and I thought 'we'll do it nude!' So there was a limited wardrobe," Phaedra laughed. "And Ayden loves the camera."
RELATED STORIES:
EXCLUSIVE: Real Housewives Of Beverly Hills & Its Original Cast Will Return For Season 2!
EXCLUSIVE: This Season's Real Housewives Of New York Is 'Blondes Vs Brunettes'
EXCLUSIVE INTERVIEW: NYC Housewife Ramona Singer Opens Up About 'Roofie' Incident