EXCLUSIVE PHOTO: Meat Loaf In A Lip Lock With Dee Snider!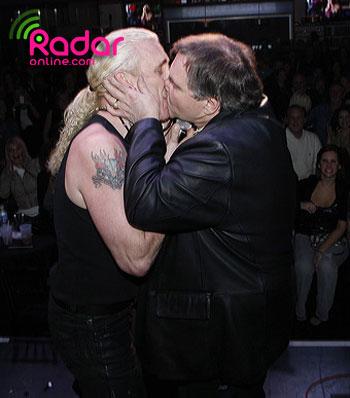 Like a bat out of hell, Meat Loaf planted a big smacker on Dee Snider -- and RadarOnline.com has the exclusive photo to prove it!
In true rock n' roll style, the impromptu kiss took place at a Celebrity Apprentice premiere party at John Rich's private estate in Nashville, Tennessee (dubbed "Mount Richmore") last Sunday after a legendary all-star jam session.
Country star Rich, who stars alongside '80s rock icon Meat Loaf this season, joined fellow co-star and Sugar Ray frontman Mark McGrath, Celebrity Apprentice alum Scott Hamilton, and singer Gretchen Wilson to toast the new season of the popular reality show.
Article continues below advertisement
And with some nudging by McGrath, Meat Loaf hit the stage to show off his vocal skills with "Two Out Of Three Ain't Bad" and brought the house down with "Johnny B Goode."
In what turned into a surprise sing-off, Snider took over the mic to belt out Twisted Sister's 1980s anthem "We're Not Gonna Take It" and Led Zeppelin's "Rock and Roll" with a little help from country's bad girl Wilson.
And when Snider and Meat Loaf went to share the mic, Meat Loaf pushed it out of the way to plant the big one!
MORE ON:
Celebrity Apprentice