Exclusive
EXCLUSIVE: Jeremy Piven Being Considered As Charlie Sheen Replacement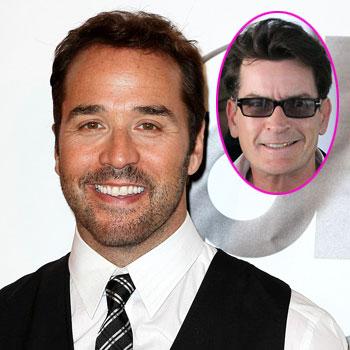 Seems that Jeremy Piven could soon be cutting back his Entourage to just Two And A Half Men.
Piven's is the latest name to be brought up as a possible replacement for Charlie Sheen, after the troubled actor was axed from his hit sitcom by Warner Bros. Television, RadarOnline.com has exclusively learned.
"Jeremy is a great actor and a hot commodity, his name has come up a couple of times in talks about who, if anybody, could step into Charlie's shoes," a source close to the situation told RadarOnline.com.
Article continues below advertisement
But, if they hope to secure the services of Piven it might be a good idea to let him know!
Entourage Red Carpet Season 7 Premiere
According to Piven's rep, Stan Rosenfeld: "No one connected in any way with Jeremy knows anything about this and that would include Jeremy."
Several names have been tossed around as executives ponder the future of the show - the most talked about being Rob Lowe and John Stamos.
As RadarOnline.com previously reported, Sheen has said that he approves of fan favorite and fellow actor Rob Lowe, though he's doubtful any successor will be able to stomach the "toxic" environment he claims surrounds the show.
"Rob's an old friend and he's a dear man and he's kind of a handsome bastard and he's talented as all heck," Sheen said in a video interview obtained by RadarOnline.com.
But, although various actors names are in the mix it seems CBS President and CEO Les Moonves is still holding out hope that all ties with Sheen haven't been severed irreparably, as he has been speaking directly with top execs at Warner Bros. Television about Sheen possibly returning to the hit show.
Article continues below advertisement
"Moonves wants to get the show back on the air. He's all for it," a source close to the situation told RadarOnline.com. "He says certain people need to forget anything and everything Charlie's done recently and just move on with the business at hand."
Sheen seems in no rush to return to his old job though and feels that whoever takes on the role has a rocky road ahead.
"I'm just dying for that first phone call from dude, from whoever he is, whoever my replacement is, going 'Oh my God you weren't lying, man! This is toxic. I must run immediately,'" Sheen said.