Exclusive
EXCLUSIVE INTERVIEW: Tony Hawk's Best Pal: It's Cool That He's Dating My Wife!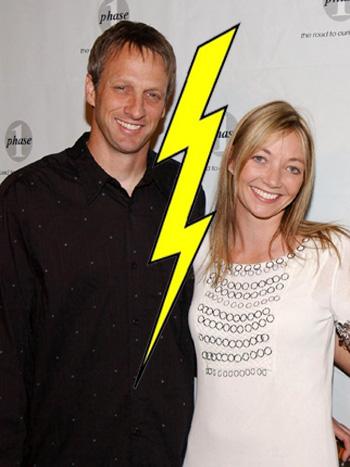 Tony Hawk's best friend Matt Goodman has told RadarOnline.com that he's "totally cool" with the skateboard legend dating his estranged wife Cathy Goodman.
Multi-millionaire Hawk divorced his third wife Lhoste Merriam after embarking on his affair with Cathy.
And amazingly, in an exclusive interview with RadarOnline.com, his former business partner Goodman said he bears no grudges.
"I know people will think it is strange but I'm totally cool with it," Goodman told RadarOnline.com about Hawk dating his wife.
Article continues below advertisement
"I had split up with Cathy over a year ago and she started dating Tony about seven months ago.
"I have a new girlfriend now and I hope Tony, Cathy and Lhoste can all be happy.
"I texted Tony today and we are all trying our best to get along.
"Our kids are all friendly and we do not want a bad situation - people are making it a bigger deal than it is.
"I knew Tony was not happy with Lhoste and I hope he finds that (happiness) with Cathy - they have known each other a long time."
Hawk, who has been married three times, manned up and told his pal that he was seeing the ex.
"He told me about the relationship although I suspected something before that," Goodman told RadarOnline.com.
"Life can be strange but I bear no grudges and just want to move on with my life now."
Goodman told us that he had filed for divorce from Cathy several months ago and that contrary to reports he is no longer a business partner with Hawk.
They parted company in 2002 and he now shoots advertising videos.
The two men have been friends for more than 20 years and were groomsmen at each others weddings.
RELATED STORIES:
Tony Hawk Gives Back Via Twitter