EXCLUSIVE INTERVIEW: Meet Actor Todd Stashwick: 'Just Keeping Busy'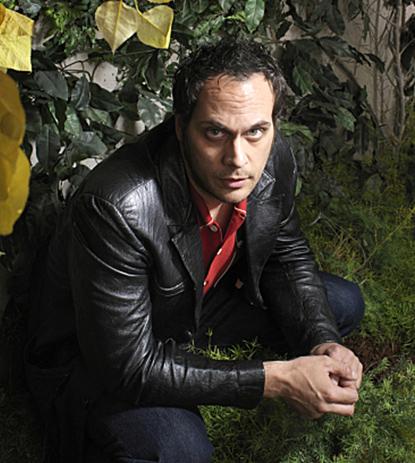 You may not know his name (yet) -- but if you watch TV, you've definitely seen his work.
Todd Stashwick is a veteran actor and improv artist who has appeared both in film and in countless television shows -- from ABC's Private Practice to CBS' $#*! My Dad Says to the critically acclaimed FX series The Riches.
RadarOnline.com chatted with this multi-talented performer from Chicago about his wide-ranging career and the secret to making it in Hollywood.
Article continues below advertisement
Radar: As a native of Chicago myself, let's start by talking about your experiences at the legendary improv theater The Second City, which produced such great talents as John Belushi, Dan Ackroyd, Bill Murray, Tina Fey, to name just a few. What years did you train and work there, and with whom?
Todd: I started working as a host, tearing tickets, setting chairs at Second City Northwest, the suburban branch, straight out of college in the summer of 1990. I relocated to Chicago later that year. I wanted to be able to see the shows every night while the same time I was in the training center. Working there on staff provided that opportunity. Joyce Sloane hired me as an actor on New Years Eve 91'. It was a great way to start 1992. I was 23 years old. I was touring with Neil (The Middle) Flynn, Adam McKay, Nancy Walls, Suzy Nakamura, Pat Finn, Brian Stack. I later went on to perform in the resident companies of Second City Detroit and Second City North West. I was working with David Koechner, Angela Shelton, Jerry Minor and others.
Radar: The concept of improv -- theater without a net -- seems so terrifying. What's it like? Does it ever get easy?
Todd: Everything's relative I suppose. It's quite thrilling. One of my improv teacher, Del Close, once described it like jumping out of a plane and you figure out what to do on the way down. It does get easy, never less thrilling though. The training pays off. Practice pays off. You always have to trust your fellow players and say yes.
Article continues below advertisement
Radar: What was the greatest lesson you learned at Second City?
Todd: Second City and improv as a whole gave me a sense of fearlessness. If you can step out in front of an audience with nothing prepared then scripted work is a cakewalk. The amount of shows and stage time I got before I ever moved to L.A. is invaluable. Put in my 10,000 hours as they say.
Radar: I understand at one point, you had an audition at Saturday Night Live. Describe the auditioning process at SNL, and what its like to audition for Lorne Michaels? What character(s) did you do?
Todd: Lorne Michaels had come to see me perform in Chicago. They flew me and some others out to NYC for the audition. I had to do characters and
impressions. The thrill for me was doing the audition in the studio, standing where the host does the monologue every week. Knowing Lorne is watching you perform raises your game. This was 1995. the impressions I did were Tommy Lee Jones, Keanu Reeves, Bob Dole, Christian Slater, Michael Stipe, Eddie Vedder and Paul Reiser. I did a saucy playboy cat burgler character named Vic Lavoo and some others.
Article continues below advertisement
Radar: Does your background in improv help -- or possibly even hinder -- when you're acting in shows that are tightly scripted?
Todd: It helps. Keeps it loose. A friend of mine once said all acting is improvisation but you happen to be saying what the writer wrote. It's the same gig. Listening, connecting, reacting. Character thoughts etc.
Radar: Aside your work in improvisational theater, you worked for several years in late 1997 through spring 2000 on Late Night With Conan O'Brien, performing as part of their rotating stable of comedy actors. Tell us about that experience. What was the craziest skit you did?
Todd: It was great. My first real TV experiences. I got to see how TV works. After Second City I was very accustomed to performing comedy in front of an audience. The stakes were higher here. The craziest? Can't pick one. Many different characters, Punchline Indian, Supersac, a crack head who hung out in the theatre. Once I was an NBC exec who goes crazy and jumps through a plate glass window.
Radar: As someone who knows Conan, what was your take on the Conan/Leno late-night fiasco?
Article continues below advertisement
Todd: That's all contract issues. Speaking to it is far above my pay-grade. I can say I think Conan is enjoying more freedom on TBS. He doesn't have to fit into someone else's mold.
Radar: How did you transition from improv to scripted roles? Was it a natural progression?
Todd: I had gone to college for theater. I came to improv as an actor first. I had a theatre company in Chicago that did scripted plays. Also the majority of the work one does at Second City is written sketch comedy.
Radar: You've appeared as a recurring actor or guest star in a lot of TV shows, including recently on ABC's Private Practice, playing a killer on death row. What's it like for an actor when you join a tight ensemble cast for a quick job?
Todd: It's great. The shows are a well oiled machine. The casts have always been welcoming.
Radar: Right now, You have a recurring role on CBS' $#*! My Dad Says and on ABC's Detroit 1-8-7, tell us about your roles, and in particular, we're curious about what is it like to work with Captain Kirk himself -- William Shatner?
Article continues below advertisement
Todd: On $#*! My Dad Says I play Dickey Todd, Jonathon Sadowski's boss, a fast talking, sarcastic Editor of the local alternative newspaper. I love doing that show. I have worked with the producers, Max Mutchnik and David Kohan, on their other shows. Their writing is firecracker funny. Shatner is a living legend. I grew pretending to be Captain Kirk. After one episode he patted me on the back, and in that Shatner way said: "You're a very funny man, it's great to have you here." The ten year old in me popped.
In Detroit 187, I played a dubious philanthropist in the crosshairs of Michael Imperioli's character. It was great to go back to Detroit. I had not been there since I performed there with Second City. Sadly, I won't be heading back because I got killed off. I've been killed a lot on TV.
Radar: You've been played everything from a murderer to an undercover Romulan. What have been some of the craziest roles you've played?
Article continues below advertisement
Todd: Two roles stick out. Dale on The Riches. It was fun to play a sociopathic hillbilly. That whole show was amazing. Working with Minnie (Driver) and Eddie (Izzard), the writing. I miss it. I also got to play Bela Lugosi's Dracula on an episode of Supernatural. I had to mimic Lugosi's performance. You rarely get to chew scenery like that on TV. It was a treat.
Radar: Tell us about your role in the upcoming independent film, Grassroots, starring Jason Biggs and Lauren Ambrose.
Todd: I play Nick Ricochet. Jason's Boss, the editor of an alternative newspaper in Seattle (I'm sensing a theme). I fire him and it sends him down a path that defines the arch of the film. He later comes to me for help.
Radar: In addition to acting, you're also the co-creator of the online web comic Devil Inside. Tell us about the comic, and how did it happen?
Todd: I was acting on Heroes last season. They introduced my character in the online Heroes comic. As a comic book nerd I was thrilled. I introduced myself to the artist Dennis Calero through twitter. We decided to have coffee. Got to talking about assorted geekery, comic movies, video games. He asked me if I write. I pitched the story of Devil Inside to him. He said we should do it as a web comic. We decided to collaborate on it. We broke the story together and launched it at Sand Diego Comic Con 2010. We do it a page a week, for free on my website. It's about Jack Springheel aka The Devil, who blasts out of hell. He's had a crisis of conscience and he doesn't want to do the job anymore. He goes on the lam in the Nevada Desert. There are forces trying to drag him back to hell. If he doesn't use his powers, they can't find him. Of course that's easier than it sounds. He's an ancient creature of habit. He has a sidekick, Sophie Hallow. A 23-year-old heroine addict running from her own demons. It's about a man caught between his past and what he wants to be. It's an action horror comic that explores the nature of evil and redemption. We put up a new episode free every week on my website www.toddstashwick.com
Article continues below advertisement
Radar: Were you a comic book nut as a kid?
Todd: I devoured all the Vertigo stuff. Sandman, Hellblazer, Watchmen, V for Vendetta as well as anything by Frank Miller.
Radar: I understand you are looking to develop other comics. Tell me about that.
Todd: Dennis and I have been talking with some comic companies about other properties we are workshopping. Graphic novels as well as serials.
Radar: Even though your improv roots are in Chicago, you've remained active on the scene. Tell me about the Hothouse.
Todd: When I was in New York I co-founded an experimental underground improv troupe called Burn Manhattan was directed by Shira Piven, sister of Jeremy Piven and wife of Adam McKay. Its members included Kevin Scott, Jay Rhoderick, Matt Higgins, former fellow Second City Alum John Thies and Kate Walsh. Jeremy would sit in with us once and a while. The organic improv philosophy we did is what formed the foundation for the Hothouse, an improvisation studio that I opened in North Hollywood in 2002. I taught classes, performed and directed shows there. John Thies joined me in this venture. My involvement waned due to work conflicts and it's John's studio now.
Article continues below advertisement
Radar: On the personal side, you've been married to your wife Charity since 1997, and I understand your wedding was quite unique. Tell us about it.
Todd: Charity and I were married in the Center of Times Square. With about 20 friends and family. We just set up shop in the little cement divider in the middle of Broadway and 7th and took our vows. My family threw confetti. When we kissed, cabbies cheered us on.
Radar: You have two kids -- a 13-year-old son and a young daughter -- would you encourage or discourage them to go into show biz?
Todd: I would encourage them to do whatever makes their hearts sing.
Radar: What piece of advice would you give to a young aspiring actor? What does it take to make it in this business?
Todd: Advice to young actors is train, train, train. Work on your craft. Study voice, movement, text analysis. No one owes you a career. Make yourself as versatile and valuable as you can be. Stay healthy. Create your own work, plays, short films, standup, improv, whatever is your passion. Always be performing. Stay ready. After that, seal off the exits and be tenacious. Last man standing.
Article continues below advertisement
Radar: Tell me about the screenplay you are working on.
Todd: The screenplay I co-wrote with Oliver Oertel is an action/horror/comedy, of the Shaun of the Dead variety. We wrote the kind of movie I love to watch. Can't say too much, but I look forward to chatting about it soon!
Radar: Finally, any other interesting projects you're working on and what can we look forward to seeing you in next?
Todd: I just shot two episodes of Better With You those should be on late March. I did four episodes of Men of Certain Age that will be on
this summer. I did a two person film To Be Friends with the lovely Joelle Carter. It was written and directed by Jim Eckhart and produced by Aaron Eckhart. It recently got a distribution deal. I continue to do improv. I do a show called Mayfly once a month at Bang Improv Studio. I also do a macabre improvised cabaret called The Doubtful Guests every October. I continue to truck on with Devil Inside and see where that leads me.
Just keeping busy.
Interview conducted by Neil J. Woulfe, News Director for RadarOnline.com, 8-time Emmy Award winner, and recipient of the Edward R. Murrow Award for excellence in journalism.