EXCLUSIVE INTERVIEW: Mariah Carey, Nick Cannon And Twins Are Going To Be 'The Perfect Family' Says Friend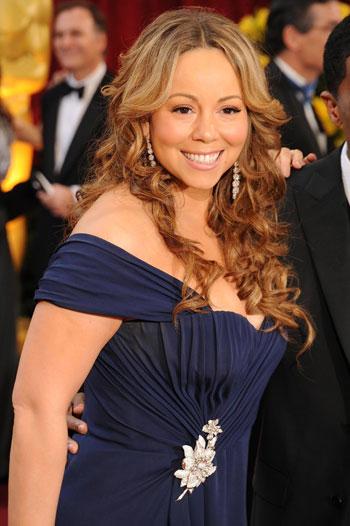 Heavily pregnant Mariah Carey's due date is inching ever closer, and according to a close friend the 41-year-old singer couldn't look any more amazing or be in any higher spirits.
Stefano Zagni is Mariah's business partner at Angel Champagne and a close friend to both Mariah and her husband Nick Cannon – and in an exclusive interview with RadarOnline.com Zagni dishes on Mariah's baby shower last weekend and why he believes Mariah and Nick will be "great parents."
Article continues below advertisement
"Seeing them together as a couple they're very loving with each other and you can just feel the excitement between them over the babies," Stefano says. "During the baby shower Nick was running around with his camera taking lots of pictures but every two or three minutes he would go over to check on Mariah and see if she was okay. He dotes on her. They completely adore each other and are so much in love.
"I just think they're going to be the perfect family. I really do. I think they're going to make great parents. They're going to be very loving and hands-on.
"Mariah's doing very well. I hadn't seen her for a few months but she looks absolutely stunning. She was glowing and very happy and in good spirits.
"Both her and Nick are very excited about the birth and they're just hugely looking forward to the future as a family. They're lucky to have twins. It's great isn't it?
Article continues below advertisement
"You could tell from all the pink and blue balloons at the shower that they're having one of each, which is perfect and amazing.
"Mariah's been taking it easy and she wasn't running around during the event. Having twins is quite a big thing – she was resting."
Mariah and Stefano have been business partners for the past couple of years and the British born entrepreneur hosted Mariah's shower as his gift to her.
As RadarOnline.com previously reported the event was held at the Montage Hotel's Conservatory Grill in Beverly Hills on Sunday, and it was a lavish affair.
"It was a very nice festive lovely event," Stefano says. "Full of beautiful balloons and lots of gifts from friends and family. A very classy nice event for a couple of hours.
"I have to say the whole thing was very special. It was magical with the guests that turned up and the food, along with Angel Champagne to sip on. There was beautiful food and canapés and everyone was in good spirits, Mariah looks absolutely amazing.
Article continues below advertisement
"There were some nice guests there and some of them made speeches. Brett Ratner who has directed Mariah's music videos, Randy Jackson, and Piers Morgan showed up.
"Brett and Randy gave speeches. Everyone had a great time. But the star of the event was, of course, Mariah, and she looked resplendent and glowing from top to bottom. I have never seen her happier."
RadarOnline.com was first to report, back in the summer of 2010, that Mariah and Nick were expecting.
The couple married in 2008, after knowing each other only six weeks, at the songstress' private island in the Bahamas and they have been inseparable ever since.
RELATED STORIES: