EXCLUSIVE INTERVIEW: Kathy Hilton Would Be 'Thrilled' If Cy Waits And Paris Wed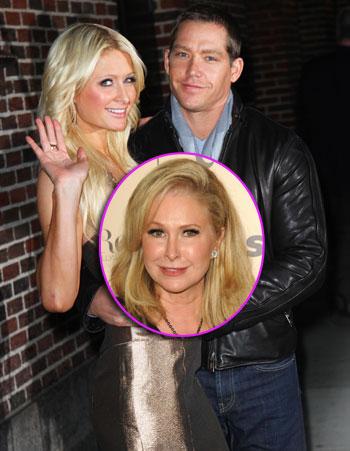 Cy Waits has got a huge fan base within the Hilton family – as well as being Paris' main squeeze, mom Kathy adores him and would be "thrilled" if he is "the one" for her daughter.
"I like him so much. He is such a gentle person, such a sweet man and Paris really looks happy when she's with him," Kathy told RadarOnline.com in an exclusive interview. "He's the real deal.
"We were all on holiday in Hawaii and Rick and I were sitting there thinking she looks so happy. I would be thrilled if he was the one. I hope so."
Article continues below advertisement
Kathy went on to reveal that Cy will be featured in Paris' new reality show, The World According To Paris, and that the world will get a front seat view of their developing relationship – all the ups and all the downs!
"You'll see their relationship blooming and butting heads together" Kathy said.
When it comes to marriage and babies – something Paris recently told radio host Ryan Seacrest she sees in her near future, Kathy says she would love for her to make that leap with Cy, but she's not pushing for anything anytime soon.
"I know that they've been dating a little less than a year and I think she's waited this long," Kathy told RadarOnline.com. "She adores him and I never ever ask or ever push that question with my girls because I got married so young and knock on wood for us it was great, but I never want them to feel pressure.
"Women today, it's nothing to get married in your thirties or have babies in your late thirties or forties. I know she would love to have kids.
Article continues below advertisement
"Anyone that loves animals and is kind like that... she'll be an incredible mom. I was at Macy's with her recently and there were 1,000 people there and the little children came up and she lights up.
"I could see it babies and a wedding. Also, I don't want to get disappointed if they decide maybe they're enjoying things the way it is....I would be thrilled though."
PHOTOS & VIDEO: Brooke Mueller Helps Paris Hilton In A Pinch
Despite Kathy only being 51 she says that she's just about ready to embrace being a grandma and welcoming another little Hilton into the clan.
"If you asked me that a year ago I'd say 'no, I'm too young to be a grandma,'" she said with a laugh… "But I do love little children. I'd say in another couple years."
And when it does happen?
"We're going to be fighting over them!" she said with excitement. "They're going on holiday with us."
Article continues below advertisement
And, if Cy isn't feeling enough loving already from Paris' family, her reality TV star aunt, Kyle Richards is also wading in with her share of of warm and fuzzy sentiments.
"I think Cy's a great guy," Kyle told RadarOnline.com. " We all love him. He's a great person, he cares about her and if he's the guy she chooses to settle down with she has my support."
As to what kind of mom Paris will make, aunt Kyle echoes her sister, Kathy: "I think she's going to be fun and loving and sweet, she's a big kid herself.
"I think she's going to be an amazing mom, she loves her animals and treats them like little children. She's always been very maternal like that and sweet with animals so I think if she treats little animals like this you can see what kind of mom she'll be."
RELATED STORIES: