Exclusive
EXCLUSIVE INTERVIEW: Jersey Shore's Angelina Says The 'Situation' Snubbed Her After Gay Slur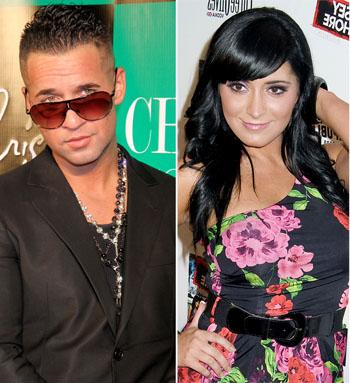 Angelina Pivarnick says she was snubbed at a Panama City Beach night club Sunday by former cast mate Mike 'Situation' Sorrentino after she referred to the reality star as "gay" on a radio show last week.
In an exclusive interview with RadarOnline.com, Pivarnick says her former roommate is just a "drama queen" and "needs to take a look at himself."
"We both had an appearance at a Club LaVela in Panama City Beach and when he found out I was booked the same night, he flipped out," Angelina said of her old housemate.
Article continues below advertisement
"Mike is such a drama queen!"
Both Angelina and Mike were asked to appear for Jersey Shore Night at the Florida club but the two were unaware they were both asked to work the same evening.
"I was sitting in the front of the airplane on the way to the appearance and some girl sits down next to me and says Mike is in the back of the plane."
"I didn't want any trouble so as soon as we landed, I got off an immediately and left the airport.
"I have regular appearances at the club, but this time when I got there, the manager came up and told me Mike was freaking out and they needed to separate us.
"I sent my road manager over to make sure he knew that I wanted peace. Just because I'm not on the 3rd season doesn't mean he is better than me.
"The club roped off two separate VIP sections because he couldn't handle being seen with me.
Mike is known for publicly insulting the Staten Islander referring to her as "dirty" and a "hamster" but last week the Jersey Shore cast-off fought back in a radio interview referring to the man known best for his womanizing as "gay."
Article continues below advertisement
"He is just upset about my gay comment and he's afraid he'll look bad, but he looks bad without me, he bombed on the Trump Roast, it was the most embarrassing thing ever! I might actually help his image."
Angelina is referring to "The Situation's" recent appearance on The Comedy Central Roast Of Donald Trump, where the reality star's jokes were more insulting than funny and the audience wasn't quite sure how to react.