EXCLUSIVE INTERVIEW: Elizabeth Berkley Celebrates Girl Power In New Book 'Ask Elizabeth'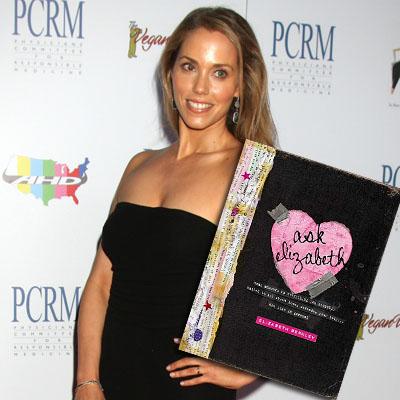 Am I too fat? Why aren't I popular? Why doesn't that boy like me? If you're a young girl or teenager (or know of one) who's struggling with poor self esteem or body image, here's a simple piece of advice -- Ask Elizabeth.
Actress Elizabeth Berkley -- who first shot to stardom as the beautiful and brainy Jessie Spano on TV's Saved By The Bell -- is on crusade to help young girls feel confident and secure in who they are.
Article continues below advertisement
Berkley -- who, in addition to TV has also appeared on Broadway and in several films including The First Wives Club and Curse Of The Jaded Scorpion -- has written a new book, Ask Elizabeth, based on her series of self-empowerment workshops around the country aimed at girls aged 11-17, which she launched in 2006.
The book is a scrap-book style compliation of girls' personal stories, thoughts from Berkley, and advice from experts.
So, in honor of Ask Elizabeth hitting stores on Tuesday, March 22, RadarOnline.com spoke with the lovely Elizabeth about what motivated her to write the book -- what she thinks about youth-targeted shows that feature adult storylines like Glee and 90210 -- and her take on today's hottest young starlets, including Lindsay Lohan -- and yes, even Snooki.
Radar: Is it true your husband Greg Lauren (Ralph Lauren's nephew) helped give you the idea to create Ask Elizabeth, the website that's now become a book? Tell us how it all started.
Article continues below advertisement
Elizabeth: Seven years ago when Saved By The Bell went into syndication, a whole new generation of teen girls started to approach me for pictures and autographs. My husband noticed a natural interaction and encouraged me to first start with a column called Ask Elizabeth. That lead to the creation of the workshops, which led to the website and now the Ask Elizabeth book.
Radar: I understand the death of your godmother also marked a turning point in your life and helped inspire your work with teenage girls. In what way?
Elizabeth: My godmother was always a confidant in my life and I felt in her passing, the best way to honor her was to pass on that gift and share it with others.
Radar: You actually conduct workshops with teenage girls. As someone who speaks to them face-to-face, What's your impression of young women today?
Elizabeth: I am grateful I get the privilege of working with young girls. Girls today are hungry for meaningful connection. Something specific to this generation is that technology acts as a great tool, but it also leaves a void in authentic exchanges. That is where Ask Elizabeth comes in to fill that need.
Article continues below advertisement
Radar: What's the most common question young girls ask you?
Elizabeth: Girl's inner critics are starting to reveal themselves at a younger and younger age. And body image issues are an aspect of their lives which is causing them low self esteem and day-to-day suffering. The questions under this topic are usually the most asked issues hence why that is the first bold-faced question in my book.
Radar: What do you tell them?
Elizabeth: One of my favorite tools is "flip it". "Flip it" can become your new favorite mantra when you are having one of those mean thoughts. You can choose to "flip it" and change how you are feeling about yourself in that moment. This is helpful at any age! Check out action steps for ditching the mirror drama in the book.
Radar: Has there ever been a question that shocked you, or moved you to tears?
Article continues below advertisement
Elizabeth: There was a workshop I did where a girl who lost her father and brother in a short span of time shared her story. Seeing her and her big heart despite the pain she was carrying moved me to tears.
Radar: What's your method or process for finding an answer to a teen's question? Do you rely solely on your own experience or gut instinct or do you also consult outside experts?
Elizabeth: I offer up my own personal experiences and things I've been through to connect to their questions. Then I facilitate a forum for the girls to share their stories opening up a dialogue with each other.
For example in the book, the sections start with a girl's question then shared personal thoughts to create a connection so girls know they aren't alone. That is followed by advice from girls, experts and myself. Then I give them action steps so they have tools to actually make changes.
Radar: What was your upbringing like? Looking back when you were a girl, do you remember your parents consciously trying to instill confidence and self-esteem in you - or did you achieve it another way?
Article continues below advertisement
Elizabeth: I am grateful that both of my parents always took my dreams seriously and I got so much confidence from pursuing the things I loved. As I was growing up, that was mostly dance class and theatre.
Radar:If you ever had a little girl some day, what, if anything, would you do differently than how you were raise to empower your daughter?
Elizabeth: Honestly, I would hope to be able to give a child the level of devotion and care that my parents have given me.
Radar: As you reflect back on your life, what would you tell the younger you - the 'teenaged you' about life and relationships?
Elizabeth: I would tell my teenage self that taking care of yourself and looking out for yourself can enhance and draw to you to the most fulfilling and healthy relationships.
Radar: Saved By The Bell still plays in syndication, and most likely, will for years. Do you consider it more of a burden or a blessing that at this age in your life, that to generations of people, you'll perhaps be best known as the beautiful and brainy 'Jessie'?
Article continues below advertisement
Elizabeth: I have nothing to say except... "I'm so excited!"
Radar: Saved By The Bell had a sweet innocence about it, even when depicting more serious topics. When you look at shows geared toward young people today -- shows like Glee, Gossip Girl or 90210 -- are you ever shocked at the storylines (teenage pregnancy, AIDS, date rape, binge drinking, hard core drug use)? Is this a good or bad thing?
Elizabeth: It's neither good nor bad. These shows are just reflecting the issues that are relevant to kids today.
Radar: What do you think of starlets like Lindsay Lohan, Miley Cyrus, & even Snooki -- and the images they present to teenage girls?
Elizabeth: It is a tough thing to be growing up in the public eye during a time where you are finding your sense of self and identity.
Radar: When you think of a strong, confident woman, who do you think of? Who is your personal role model?
Elizabeth: I have been lucky enough to be in the presence of many great women. It is hard to pick just one.
Article continues below advertisement
Radar: Your book is directed at teenage girls. Have you ever thought about writing a book for teenage boys from a woman's perspective?
Elizabeth: The truth is, boys can learn a lot from this book. They can get an inside peek into the emotional world of a teenage girl. They will be ahead of the game when it comes to dating!
Radar: What's next for you? Are you planning to focus for the time being on your Ask Elizabeth project, or do you have any plans to return to TV?
Elizabeth: I'm grateful that I have found a way to do both and I am someone who doesn't put limits on myself which is what I teach my girls. Dream big and all is possible! I look forward to continuing both because they both fuel each other.
Elizabeth will be signing copies of her new book Ask Elizabeth at the Barnes & Noble located at The Grove in Los Angeles on Saturday, March 26 at 2:00pm PT.
Check out Elizabeth's Twitter and Dailybooth feeds.
Interview conducted by Neil J. Woulfe, News Director for RadarOnline.com. Neil is also an 8-time Emmy Award winner and recipient of the Edward R. Murrow Award for excellence in journalism.
Watch Elizabeth Berkley On Tuesday's Today Show
Visit msnbc.com for breaking news, world news, and news about the economy