EXCLUSIVE INTERVIEW: CSI Star Gerald McCullouch -- A Rebel With A Cause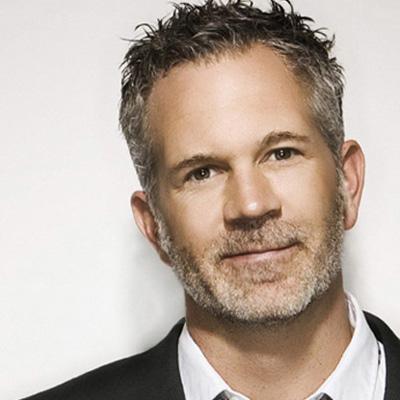 With his dashing good looks and silver-streaked hair, Gerald McCullouch looks like a rebel with a cause -- and he is.
McCullouch -- an award-winning actor, director, screenwriter and singer -- is perhaps best known for playing Bobby Dawson on the hit CBS drama CSI: Crime Scene Investigation, but in real life, he's just as passionate about living life as a proud, openly-gay man.
McCullouch is currently on stage in Los Angeles in the West Coast premiere of the off-Broadway hit "Daddy", a role he also played in New York.
Article continues below advertisement
---
Radar: Tell me about "Daddy", the play you're starring in right now in Los Angeles. What's the plot, and tell us about your character?
Gerald: "Daddy" is such a unique and at times laugh-out-loud funny story that illuminates that weird journey of navigating a male gay friendship. It's heartbreakingly beautiful. Really. It's about family. How the families we come from have immense impact on who we become and the actions we take. And it's about the consequences of all the things left unsaid. I play Colin - a rather libidinous lifelong bachelor who is thrown into an unexpected mid life crisis when he falls for a much younger man.
Article continues below advertisement
Radar: What's the audience reaction like? Is it fair to say the audience is mainly gay men?
Gerald: I'm really excited by the diversity of our audiences. The story seems to stay with people and provoke conversation afterwards. Which I find cool as crap. The variety of people I've encountered while leaving the theatre is amazing: I've had a few audience members comment on that same subject, actually. Even had a few straight men come out of their way after the show to remark on the story or my performance. Which I find even cooler than the previously mentioned cool crap.
Radar: Are gay audiences different than mainly straight audiences? By that I mean when I saw Angels in America on Broadway years ago during Gay Pride weekend, the theater was absolutely electric -- it was an experience I'll never forget.
Gerald: Well, from my point of view, it isn't a gay or straight audience. It's group of people who are interested in the themes the play deals with and want to experience how the story unfolds. From hoots n' hollers during a kiss scene between Ian Verdun and myself, to pretty hysterical laughter, to the sounds of people fighting back tears, there have been some wonderfully electric audiences at 'Daddy'. Sometimes the hoots n hollers, and sniffles, and laughter come from a predominantly gay male audience -- which is such a beautifully palpable sexy hug of acceptance -- but the gays ain't alone. And, quite frankly, we've had some NON-electric audiences as well. But even many of them waited afterwards to meet and greet and talk about the impact the story had on them.
Article continues below advertisement
Radar: For ten years, you've played Bobby Dawson on the hit CBS show CSI. The character has long been rumored to be gay, and at one point, I heard there was talk that your character would come out on the show, but that hasn't happened. Is that true, and if so, why?
Gerald: There was an episode many seasons ago when we shot a scene where it was revealed that Bobby was in a committed same-sex relationship and had adopted a child with his partner. However that scene was cut from the episode when it aired. The show has gone through so many changes through the years and Bobby really isn't a part of the CSI fabric as much as previously, so I don't expect the story line to resurface.
Radar: Right now in the media, there's been a lot of attention given to the problem of bullying in which the targets are gay teens. As a young man growing up in Alabama, it couldn't have always been easy. Were you ever bullied, and what do you think about the campaign, It Gets Better?
Gerald: Although I was born in Alabama, I have no memory of it. I grew up all over America. I moved every two years of my life so I'm not really from anywhere. As I always say, I'm a little bit country, a little bit rock n roll. Being the new kid, especially the new kid with the effed up name no one could pronounce, I was mocked by many and I empathize with people of all ages who are struggling with accepting themselves. I participated in the "It Gets Better - Broadway" campaign.
Article continues below advertisement
Radar: You're an avid kick boxer. Is that a sport you learned, in part, in order to defend yourself? In fact, I understand you've fought off muggers on more than one occasion.
Gerald: Um, not so hot on kick boxing. But regular ole' boxing is pretty much my one and only sport. It's an incredible work out. When in the ring you have to be 100% present. Physically and mentally. Kinda' like acting. And yes, my ability to defend myself has been an asset in a few horrible situations. I had a knife pulled on me in NYC as someone tried to steal my laptop and stupidly I fought back. Very, very luckily I won.
Radar: Everyone in the LGBT community has a different coming out story, so let's talk about yours. How old were you when you came out?
Gerald: Oy. Really? Going old school on me. My coming out was a long process. As I said, I was always the new kid in town. Moving every two years was challenging. And didn't allow me to put too much focus on figuring out who I was. When I was 21 I was doing a beautiful musical in Atlanta called "Different" about the gay experience and a young man's coming out story. During the run of "Different" I met my first love. And the rest is history.
Article continues below advertisement
Radar: The great irony about the coming out process is that it can often be the most difficult to tell those people we are closest to, since we risk losing those relationships we most cherish. Was there one person you found the most difficult to come out to?
Gerald: Probably my father. He was the last person I told. And it was years after the rest of my family.
Radar: What was the reaction from family and friends?
Gerald: Well, we're talking lifetimes ago. It was a different world back in the late 80's. There were some bumps in a few friendships and some tense moments with family. But let's face it -- have you seen the hairstyles of that time in our history? Who can blame them. Poor creatures.
Radar: I know that while you were in college, you had a life-changing experience. During your sophomore year, you survived a near fatal car crash that left you in a coma. Did that change your outlook on life, or play a role in your decision to come out?
Article continues below advertisement
Gerald: I don't think you can go through something like that and not have it affect you. Yes, the impact of the car wreck and it's lasting scar across my forehead are daily reminders to live for the moment. And to do so as honestly as I can.
Radar: You are a true role model to the gay ( and for that matter, the straight community) as a man living his life openly and honesty. What was your reaction to being honored as one of the Out 100 last year?
Gerald: I was beyond flattered and still am to this day. It was an unexpected honor. And I'm very grateful.
Radar: Coming out is such a personal decision, but do you think people in the public eye, such as actors, have an extra responsibility to come out?
Gerald: I'm not one to tell anyone how to live their life. Everyone's gotta' make their own decisions and choices. Some people make those out of fear. Aw well.
Article continues below advertisement
Radar: Carrie Fisher has 'outed' John Travolta on more than one occasion, telling the September 2009 issue of Out (and later repeating her comments during an interview in December, 2010) "We don't really care that John Travolta is gay." Whether Travolta is -- or is not gay -- is his business, but what was your take on that?
Gerald: I loved him in 'Boy in The Plastic Bubble'. I even know the theme song. True fact. Ain't lying. "What would you say, if we up and ran away, from the roaring crowd, and the worn out city faces....". He wrote that song by the way. He's an amazingly talented man. Live and let live.
Radar: Richard Chamberlain and Rupert Everett have both been vocal in advising young gay actors not to come out, saying that it will hurt their careers. What is your take on that?
Gerald: I'll see your Richard Chamerlain and Rupert Everett and raise you a Neil Patrick Harris and a Sir Ian McKellen.
Radar: Last spring, Newsweek ran a review of the Broadway musical Promises Promises and the writer -- an openly gay man himself-- was critical of Will And Grace star Sean Hayes' performance, saying as an openly gay actor, he wasn't believable as the romantic 'straight' lead. Were you surprised by his comments?
Article continues below advertisement
Gerald: Reviewers have their opinions. It's their job. And to quote Salt n Pepa "opinions are like a ** holes..." But I do think a lot of the homophobia in the entertainment industry is perpetuated by, shall we say, "members of the church."
Radar: Are you encouraged by shows such as Glee, 90210, and Brothers & Sisters which feature openly gay characters? What kind of impact do you see these shows -- but especially Glee which features two out high school students -- making on middle America?
Gerald: Society is changing. And that's being reflected in the stories that are told about society. And that intrinsic relationship has been a part of story telling since it began.
Radar: With the repeal of Don't Ask, Don't Tell, and the growing movement to legalize gay marriage, do you sense the country is changing for the better -- becoming more accepting of the LGBT community?
Gerald: Yes. Slowly. But yes.
Article continues below advertisement
Radar: In addition to your dramatic chops, you're also a musical theater performer and toured Europe as the lead in Jesus Christ Superstar. Tell me about your music and who are some of your greatest influences?
Gerald: Oh man. I grew up listening to Barry Manilow non-stop. I loved the stories he told in his songs. And we have the same vocal range. So, two birds one stone.
Radar: With everything you've accomplished, what's next for you?
Gerald: I never freakin' know what's next. Do we ever? I'm very passionate about getting 'Daddy' made into a film and we have interest in bringing that to fruition. And the sequel to 'BearCity', a recent gay-themed indie I starred in and has done very well, is on my plate. I just wrapped a nice episode of a really cool unnamed tv show so that will be popping up in the near future. Plus, I have a few projects I've developed that I'm proud of which seem to be moving forward. But whatever comes, I'll be tweeting about it - http://twitter.com/#!/ItsAHardG. J'adore the Twitter.
Daddy is currently playing at the Hudson Mainstage Theater, located at 6359 Santa Monica Blvd in Hollywood, CA. The show has just extended through April 10th. For more information, go to www.daddytheplay.com.
Interview conducted by Neil J. Woulfe, News Director for RadarOnline.com, 8-time Emmy Award winner, and recipient of the Edward R. Murrow Award for excellence in journalism.