Exclusive
EXCLUSIVE INTERVIEW: Anna Duggar Reveals Sex Of Baby Number Two 'I Was Hoping For A Boy'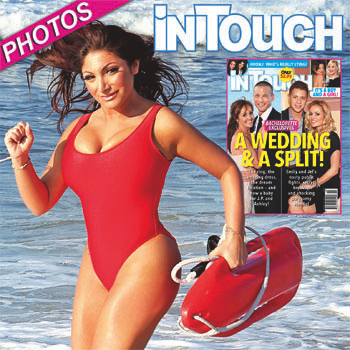 Josh and Anna Duggar revealed the exciting news about the sex of their second child on Monday, and in the upcoming episode of 19 Kids and Counting they surprise the rest of the family.
"I was hoping for a boy," mom Anna exclusively told RadarOnline.com about her new baby, and her wish came true.
Already parents to 1-year-old daughter Mackynzie, Anna said she expects to have a very close relationship with the little boy, as is his father. "Josh is looking forward to having a son and a buddy."
Article continues below advertisement
"It is a lot of fun to get little boy clothes and shoes," Anna said. "I'm very thankful for this new blessing."
Mackynzie is talking and has learned to say "baby" her parents reported. "We're working on brother," Anna said.
In her sixth month of pregnancy, Anna said she had morning sickness in the beginning but she is feeling the baby more now. "This is more active now and that is fun to have reminders that we have a healthy little baby."
Josh is the eldest of 19 children, and while he previously joked with RadarOnline.com that they're going to have 25 children, he explained that they're happy with just two now.
"It's not about a number, if you have one that is a blessing," Josh said.
He and Anna haven't decided on a name for their little boy, who is due on Father's day, June 19, but they've had a lot of input from family members.
"My dad said Jim Bob is a good name," Josh said. "But I don't know that we're going to go with that."