Exclusive
EXCLUSIVE: Christina Aguilera Raunchy Pix For Sale: In Bed With Boyfriend, At Nicole Richie's Bachelorette Party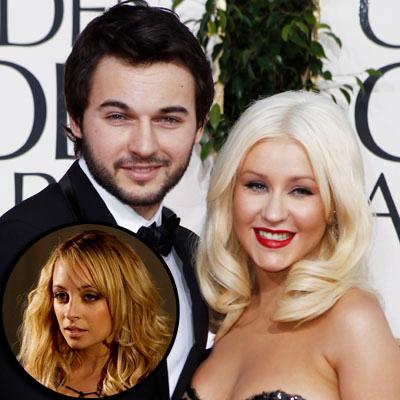 Hundreds of highly intimate photographs of Christina Aguilera have surfaced,including candid images of the star partying at Nicole Richie's bachelorette party and in bed with her boyfriend Matt Rutler.
The provocative images of the Dirrty pop star -- who split from her husband of five years, music producer Jordan Bratman last year -- were on a digital storage card that was found in a French hotel, RadarOnline.com has exclusively learned.
Article continues below advertisement
The revealing collection is time-stamped from June to November, 2010.
RadarOnline.com has seen 109 of the photographs, sent to us by a man who was attempting to sell Aguilera's private album.
He claimed the card was discarded in an upscale hotel room where Aguilera and Rutler had stayed.
Fifteen of the images were taken on September 17, 2010 at Richie's bachelorette bash in Cabo San Lucas, Mexico.
In what is a major security breach for the Beautiful singer, Aguilera is pictured drinking, smoking a cigar and posing with Richie at the star's soiree, with flowers in her hair.
Richie, who married rocker husband Joel Madden two months later, is also caught on camera in a bikini near the beach with a blow-up male doll strapped to her.
In another of the shots Richie's angel wing tattoos on her shoulder blades are clearly visible, as she poses in a zebra print dress.
The 29-year-old daughter of All Night Long hit-maker Lionel Richie is also snapped drinking champagne and cocktails on board the private jet that flew her bachelorette attendees to Mexico.
Article continues below advertisement
There are also several personal and romantic shots of 30-year-old Aguilera and Rutler, who worked as a set assistant on the film Burlesque, in which she starred.
In one, the pair are seen kissing passionately at different times and in various locations and laying in bed together.
Other images, that RadarOnline.com has viewed, show:
* Aguilera with two naked men who appear to be strippers performing at another bachelorette party, which Lindsay Lohan's ex-girlfriend Samantha Ronson also attended;
* Aguilera mimicking performing oral sex on an unidentified male who is holding a sex toy;
* Aguilera dancing on a table with friends at a private dinner;
* Aguilera mimicking an oral sex act on a chocolate covered banana at a theme park; and
* Aguilera posing for before-and-after make-up shots.
What's more, there are candid images of the songstress with her son, Max Liron Bratman, at what appears to be a goat farm in October, last year.
Article continues below advertisement
Aguilera would undoubtedly be worried that the images will appear on the internet like other photos of her did last December, showing the star in various stages of undress.
Those photos showed the Grammy award-winning songstress in saucy lingerie and were stolen by a hacker from her stylist's computer, according to her rep.
It's not known if the images are linked to a hacking ring under FBI investigation that has targeted phones and computers of more than 50 stars and politicians.
It's the latest setback for Aguilera, who has been under siege since she filed for divorce from Bratman in October, last year.
While she is now dating Rutler, the singer has battled a series of controversies, including flubbing the lyrics of the National Anthem while performing at the Super Bowl and falling onstage at the Grammy Awards.
Earlier this month, just when it seemed like her downward spiral couldn't get much worse, cops were forced to detain the star for public intoxication and hauled her to jail for her own safety.