EXCLUSIVE: Charlie Sheen Gets Support From Katy Perry's Husband Russell Brand After AA Bashing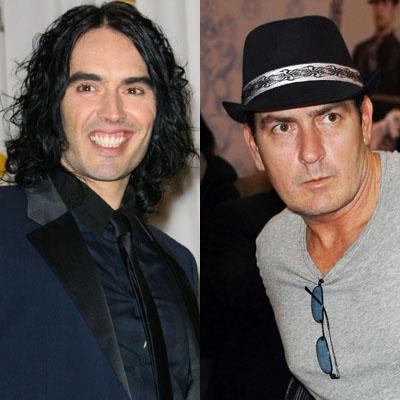 Teetotaler Russell Brand has joined Mel Gibson and Sean Penn in throwing their star support behind embattled Two and a Half Men star Charlie Sheen, RadarOnline.com is exclusively reporting.
Brand, who is married to pop star Katy Perry, sent a text message to Sheen on Tuesday in which he praised the star and declared his support.
"He is a b*tchin' dude," Sheen told RadarOnline.com, exclusively.
The message of support from Brand, a recovering booze and drugs addict, is surprising given the British funnyman is a known supporter of Alcoholics Anonymous.
Article continues below advertisement
The 35-year-old attends meeting in Los Angeles each week.
Sheen's recent rants included several tirades against the 12-step program popularized by AA; he event went as far to call it a "bootleg cult" and claimed it had only a 5% success rate.
Of the support, Sheen previously told RadarOnline.com: "It's radical... it's just love, to see a giant marquee name come through on your caller ID, it's like, winning!"
Brand enjoyed a sober stag party with his celebrity friends, including ex-Oasis guitarist Noel Gallagher and comedian David Walliams, before he married Perry.
Brand has admitted the majority of his erratic behavior was down to his growing dependence on drink and drugs -- crack and smack being the narcotics of choice during his early career.
RELATED STORIES:
RADAR EXCLUSIVE VIDEO: Charlie Sheen Watches Drug Test Interview, Calls Himself 'Genius