Exclusive
EXCLUSIVE: Charlie Sheen & Brooke Mueller Court Battle Will Destroy Both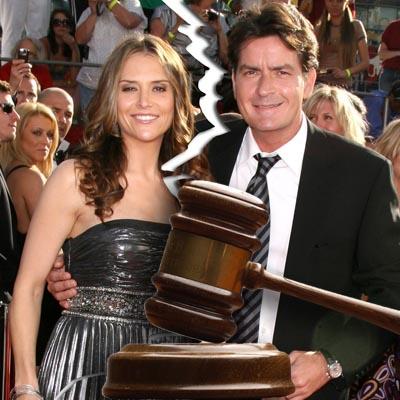 A court battle between Charlie Sheen and Brooke Mueller would destroy both of them, with a wealth of dirty secrets spilling into the public, a source familiar with the situation tells RadarOnline.com exclusively.
Sheen and Mueller have avoided court for now and both have motivation to resolve their battle privately.
"A public all-out war between Charlie and Brooke will be devastating to both," the source said. "They each have so much dirt on the other it's amazing.
Article continues below advertisement
"People think they've heard everything about Charlie but they haven't. And Brooke knows his worst secrets and hasn't unloaded them yet."
Mueller obtained a restraining order against Sheen, revealing an anti-Semitic text she says he sent and various violent threats.
But there's much, much more.
"Charlie has done things with Brooke that the public doesn't know about. I'm talking about in the arena of sex and drugs, and these things are shocking, even for Sheen," the source said.
"And while Charlie has shown some of the goods he has on Brooke, he has a lot more. He can hurt her as badly as she can hurt him.
"Going to court and waging all-out war will harm both of them badly."
As the parents of twin boys, Charlie and Brooke both have to be careful about the accusations they throw at each other. Their marriage involved bringing in outside sex partners and doing a lot of drugs.
Article continues below advertisement
Sheen showed RadarOnline.com evidence of Brooke's relapse during the recent trip to the Bahamas before Charlie was canned from Two and a Half Men. Brooke, who has been in rehab many, many times, admitted she relapsed but says she is sober now.
"Both sides need to work out a deal without going to court," the source said. "Otherwise things are likely to get even worse for both Charlie and Brooke."
RELATED STORIES: