Eliminated 'American Idol' Karen Rodriguez: Jennifer Lopez Said 'I Was Perfect'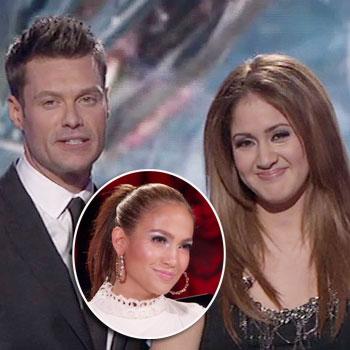 Karen Rodriguez may have been eliminated from American Idol, but she certainly isn't out of the game and said that she has big plans for her career, including winning a Grammy and an Oscar.
"Looking forward, American Idol was one of those things on the long list of things I want to accomplish in my life and I'm so glad that I can scratch that off but there are so many things above American Idol that I want to do," Karen told RadarOnline.com on a conference call Friday after being eliminated from the show Thursday night.
Article continues below advertisement
"I want to win a Grammy, I want to win an Oscar," the 21-year-old said.
Singing songs in Spanish, Karen said she wants to be a Latin-American star, and spoke about the support she received from new judge Jennifer Lopez.
"Jennifer has been a fan of mine from the beginning. She said I was perfect. She said 'you know somebody had to go home, this was your time.' She was rooting for me, if it had been all on her I know she would have saved me. She told me."
Having Jennifer in her corner "felt so great," Karen said. "I felt the love so much. I felt that she really, really understood me because I know that she's gone through that before. We identified with each other so much. People have said that she's seen herself in me. She struggled all her life to get to where she's at. It's hard work, perseverance - she is just a big example and I feel that it was always love from her.
Article continues below advertisement
"I always felt safe whenever she was around, because she was genuine.
"My idol has always been Selena and she got to play Selena and when Selena passed away she did the movie. I've been following Jennifer for so long and I got to sing to her every single week - that to me was incredible."
Karen spoke about the support she received from the two other judges. "Steven and Randy both came at me at the end and gave me hugs and kisses and said you're amazing, you're going to go so far, this is only the beginning."
Karen didn't play favorites when asked who she thinks could win American Idol. "Everybody has an equal chance of taking it all. You never know what America wants, it changes every week you just have to go out there and give it your all and leave it on stage."
She told RadarOnline.com that she spoke with her mom after the show and "she was kind of sad but I had to remind her that life goes on and everything happens for a reason. Perhaps this was my time to go for a specific reason that I don't know right now, but I'm so sure that I'm going to find out real soon."
Article continues below advertisement
Certainly not devastated by her loss, Karen spoke about what the future holds for her.
"I have so much faith that my destiny is destined for greatness. I feel that in every part of my being, I've felt that since I was a little girl. Being on American Idol top 12 season 10 ,the best season ever, that just reinstates that for me."
American Idol returns Wednesday on Fox at 8/7c; we'll keep you up-to-date on all the happenings right here on RadarOnline.com.