Charlie Sheen Tweets Tell-All Book Will Be Titled 'Apocalypse Me'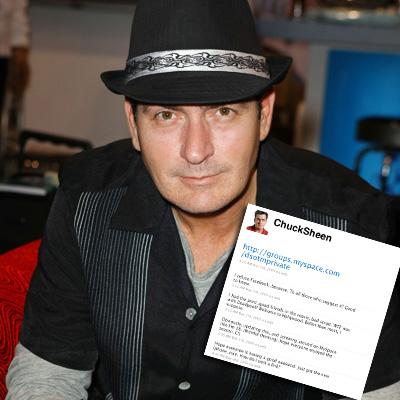 Charlie Sheen's self-described "odyssey" continued via Twitter Friday, RadarOnline.com has learned, as the talented-yet-troubled Two And A Half Men star continued tweeting about life, love and of course -- duh, winning!
Among the self-proclaimed rock star's latest 140-character musings:
"The title of my book has finally been delivered thru vast and extensive Lunar channels. "Apocalypse Me" Warlock Latin for WINNING. c"
Article continues below advertisement
"#WINNING! #teamsheen"
On Thursday, he wrote about his ongoing custody issues with ex Brooke Mueller over their twin toddler boys, Max & Bob: "not sure what all the legal noise is about... just verbally reached a deal with B. no court mon. yay......yet the opposition felt it necessary to still harass me with old gibberish.... odd? perhaps. transparent? you betcha'!"
How hot is Sheen these days? He landed in the Guinness Book of World Records earlier this week after racking up almost 1 million Twitter followers in just more than a day after creating his account. By Friday, he was up to nearly 1.5 million.